Syrian helicopter violates Lebanon airspace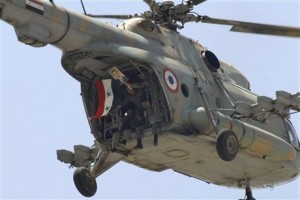 Syrian helicopters on Sunday circled over the outskirts of the Bekaa border town of Arsal before returning to the Syrian airspace according to a report by Future News TV
Lebanon's National News Agency confirmed the ( Future) report but did not elaborate .
This development comes after Defense Minister Fayez Ghosn informed the Lebanese cabinet that al-Qaida members had infiltrated the Bekaa town of Arsal.
But according to Lebanon's Interior Minister Marwan Charbel Ghosn only spoke of information he obtained and not of reports that al-Qaida members had been arrested, especially since the border region is controlled by the Lebanese army
"I don't know if this information is a result of the coordination between the Lebanese and Syrian armies," Charbel told Asharq al-Awsat newspaper on Sunday.
According to observers Ghosn who is strongly allied with Hezbollah and the Free patriotic Movement is colluding with the Syrians in blaming the twin suicide bombing on the al Qaeda. Syria also blamed the opposition for the bombings.
Meanwhile the mayor of Arsal Mohammed al-Hujairi criticized the allegations that al-Qaida members had infiltrated Arsal and called on the government to deploy the Lebanese army and security forces in the town in order to confirm that no extremists had entered the country according to a report by the Kuwaiti al-Anbaa newspaper on Sunday.