Jumblatt slams Ghosn's statement on Al-Qaeda infiltration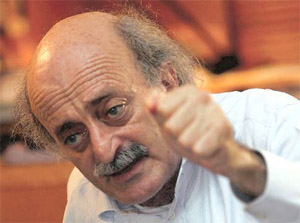 Progressive Socialist Party leader MP Walid Jumblatt criticized the statements made by Defense Minister Fayez Ghosn in which he warned that Al-Qaeda cells have infiltrated Lebanon hours before the twin bombing that killed 44 in Damascus Syria.
"If only some officials would wisely and rationally deal with such issues and resolve them, by boosting security, not by making statements." Jumblatt said about Ghosn, stressing that such issues should not be resolved through political and media statements."
President Bashar al-Assad's regime has blamed the bombing on "terrorist organizations," including Al-Qaeda, and quoted Lebanese officials as warning them that Al-Qaeda members infiltrated into Syria from the town of Arsal
Jumblatt condemned Friday's twin suicide bombings that targeted security service buildings in Damascus and stressed on reaching a "political solution" to the crisis in Syria.
"The timing of the blast that coincided with the visit of the Arab observer mission to Syria raises questions… and the PSP strongly denounces the explosions," Jumblatt wrote in his weekly column in PSP's Al-Anbaa newspaper.
Ghosn who is reportedly closely associated with Hezbollah and Free Patriotic Movement leader MP Michel Aoun informed the Lebanese cabinet last Thursday that al-Qaeda members had infiltrated the Bekaa town of Arsal.
But according to Lebanon's Interior Minister Marwan Charbel, Ghosn only spoke of information he obtained and not of reports that al-Qaeda members had been arrested, especially since the border region is controlled by the Lebanese army.
"I don't know if this information is a result of the coordination between the Lebanese and Syrian armies," Charbel told Asharq al-Awsat newspaper on Sunday.
March 14 official Fares Soueid commented on the speed by which the Syrians accused al-Qaeda of the bombing.
If they were able to find out within minutes who was behind the twin explosions , why don't they tell us who killed ( Hezbollah commander ) Imad Mughniyeh?
Mughniyeh who was assassinated in Damascus on February 12, 2008 in a car bomb was the head of Hezbollah's security section, a senior intelligence official and one of the founders of the organization.