Syria: oil output cut by third due to sanctions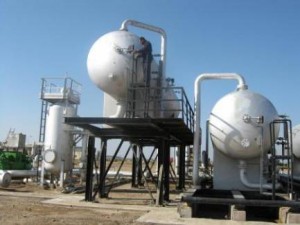 Syrian Oil Minister Sufian Alao said on Saturday that his country's oil production had fallen by about 30 to 35 percent as a result of sanctions imposed on Syria over its nine-month crackdown on anti-government protests.
The European Union has stepped up its sanctions against Syria's oil industry, including blacklisting state-owned firms. The Arab League has also imposed sanctions on financial and other dealings with Syria.
"We have reduced our production by 30 to 35 percent until we resume exports," he told reporters on the sidelines of an Arab oil ministers meeting in Cairo, adding that current output was about 260,000 barrels per day.
"These are dark sanctions that no other country has been through before. They stopped buying Syrian oil and we are facing difficulties in exports and this has a negative effect on our people," he said.
He said Syria's production capacity was about 380,000 bpd and its refining capacity was 250,000 to 255,000 bpd.
"We reduced our crude oil production and now we are importing products such as gasoline and liquid petroleum gas, but we are facing problems in dealing with banks," he said.
He said European firms had faced bans on operating in Syria, prompting companies such as Shell and Total to stop work there. "Our local companies are capable of continuing," he said.
In accordance with EU sanctions, Royal Dutch Shell (RDSa.L) and Total (TOTF.PA) both said this month they would cease production activities in Syria.
Reuters