Patriarch Rai: The State is obligated to guarantee people's safety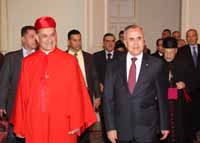 Maronite Patriarch Beshara Al Rai said during the Christmas mass that was held at Bkirki that the state is obligated to guarantee the people's safety to ensure an arms-free Beirut and arms-free Lebanon.
"The state is obligated to guarantee the people's safety, gather all arms, and limit security duties to the state, which will therefore ensure an arms-free Beirut and arms-free Lebanon."
"The state should assign all security and defense duties to the political authorities." He stressed
His statement comes after Beirut MPs demanded on Monday that Beirut be stripped of all armed groups in order to avert armed clashes that had erupted in the capital in recent years,
Rai also said that the judicial authority should act independently and away from external meddling.
"We look forward to justice that can be exacted by brave and honest judges," said the patriarch.
"No one can obstruct justice or politicize it," the patriarch stressed
The mass was attended by several Christian leaders including President Michel Suleiman, former president and current Phalange Party leader Amin Gemayel, Free Patriotic Movement leader MP Michel Aoun, and several other officials.
Suleiman Rai meeting
President Suleiman who held private talks with Patriarch Rai at Bkirki said following the meeting that a parliamentary electoral law should cater to all insecurities in Lebanon and provide equality between its people.
"The Maronite meeting laid the basis for discussions on the electoral law that unite all sects and respect the Taif Accord."
He was referring to the meeting of the Maronite leaders which was held earlier in December and during which they agreed to adopt the Orthodox gathering proposals on the electoral law which calls on each sect in Lebanon to vote for its candidate in the elections based on proportional representation.
Suleiman also told reporters that national dialogue should be resumed in order to tackle a defense strategy for Lebanon and the fate of the Resistance's possession of arms.
"All sides should cooperate with the security authorities to thwart terrorist activity," said Suleiman