Human Rights: More than 6,200 killed so far in Syria revolt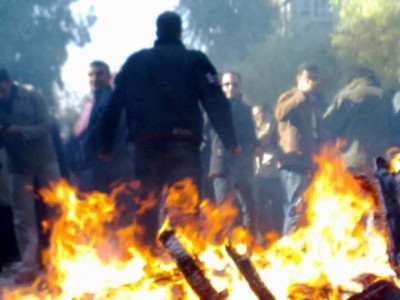 More than 6,200 people including hundreds of children have died in Syria's crackdown on an anti-government revolt, a human rights group said on Thursday.
Syria is facing increasingly fierce international condemnation for its handling of months of demonstrations against President Bashar al-Assad's rule, partly inspired by the "Arab Spring" uprisings that have swept across North Africa and the Middle East.
Syria says it is fighting foreign-backed "terrorists" and on Thursday announced that more than 2,000 of its security forces have been killed in the unrest.
An advance team for an Arab League monitoring mission was due to arrive in Damascus on Thursday to prepare the ground for about 150 observers.
They will have the job of checking if Syria is complying with an Arab initiative that calls for an end to violence, the withdrawal of troops from the street and the release of prisoners.
Syria's main opposition group on Wednesday said 250 people had died in the most recent violence. The SNC, a major umbrella group of factions opposed to Assad, reported "250 fallen heroes during a 48-hour period."
More than 200 people have been reported killed over the past three days as the up
The British-based Avaaz rights group said it had collected evidence of more than 6,237 deaths of civilians and security forces, 617 of them under torture. At least 400 of the dead were children, it added.
The figures were about 1,000 higher that the latest U.N. estimates, which have also been climbing sharply in recent months.
"No once can now turn a blind eye to the horror-show in Syria … One in every 300 Syrians has either been killed or imprisoned," said Avaaz executive director Ricken Patel in a statement.
"The world faces a choice: It stands by while brutal civil war rips through the country or it steps up the pressure to force Assad out," he added.
Security forces have detained at least 69,000 people since the uprising began in March, Avaaz said. Around 32,000 of them have since been released.
The death toll is rising sharply as the mainly peaceful protest movement against the Assad family's 41-year rule becomes overshadowed by clashes with armed rebel groups, who call themselves the Free Syrian Army.
Avaaz estimated that 917 in its count died in those clashes, with the casualties roughly divided between the armed rebels and Syrian security personnel.
This has been one of the bloodiest weeks of the nine-month uprising. On Tuesday, the army's efforts to quash revolt near the Turkish border killed more than 111 civilians and activists, another activist group said.
Avaaz said it had more than 50 monitors on the ground collecting data for its reports. Each person on its death toll was confirmed by three individuals, it said, including a relative of the deceased and a cleric who handled the body.
The group estimates that 40 percent of the fatalities were in the central city of Homs, a protest hotspot and centre of armed rebellion against security forces.
National Post , Reuters