Reporter for Lebanese daily As-Safir detained in Syria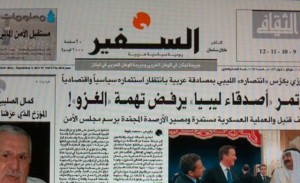 A Syria correspondent for Lebanese daily As-Safir, considered supportive of Bashar al-Assad's regime was detained in Damascus, an editor at the newspaper told AFP on Wednesday.
"We lost contact with our correspondent Mohammed Dahnoun yesterday (Tuesday) during a protest at Midan Square in the Syrian capital," the editor said, requesting anonymity.
"Eyewitnesses say they saw security forces drag him away from the crowd," he said, adding that Dahnoun had likely been covering rather than participating in the protest.
Dahnoun has been writing for As-Safir's youth supplement for nearly five years.
Tuesday marked one of the deadliest days of anti-regime protests since they erupted in March, with activists reporting the deaths of more than 111 civilians across the country.
Forces loyal to Assad have cracked down brutally on the uprising, killing more than 5,000 people, according to U.N. estimates. Thousands others, including bloggers, journalists and activists, are believed to have been detained.
AlArabiya