Syria's wounded seek refuge in northern Lebanon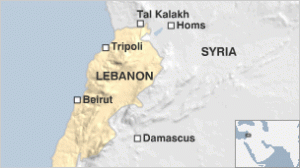 Few people would doubt that 20-year-old Mohamed, an army deserter, is lucky to be alive.
Three months ago, he managed to escape – along with 20 others – to join the opposition Free Syrian Army, a group of deserters who aim to resist forces loyal to President Bashar al-Assad.
After switching sides, he later found himself in a gun battle with soldiers in Syria's central city of Homs, and was shot. Fourteen times.
Friends took him to a field hospital but he had only basic medical care and his condition deteriorated.
After 15 days, he left for Lebanon, making a perilous journey by van, and then on the back of a motorbike, across a border area littered with landmines.
He is now in a "safe hospital" in Tripoli, Lebanon's second city – one which has found itself hosting thousands of Syrians who have fled for safety.
'Sympathetic city'
The response to the Syrian uprising has been mixed in Lebanon, a country where Syrian troops had a presence for almost three decades, before finally being forced out in 2005.
But Tripoli – which is largely Sunni Muslim, like most of the Syrian opposition – has shown itself sympathetic to the anti-Assad movement beyond the borders.
Tripoli is also at a safer distance than Lebanese border towns, where there have been reports of incursions by Syrian troops.
There are more than 4,000 registered refugees in Lebanon, according to the UN, but many go unreported. Activists believe the number is closer to 10,000.
Activists in the city say the number entering gradually fell from its peak in the summer but has lately started increasing again. Most of those coming into Lebanon are from Homs – a focal point of protests – and Tal Kalakh, a town closer to the border.
"There are nearly 600 families in Tripoli now," one activist, Khaled, tells me. "Last month I came and there were only 500."
Refugees find cheap houses to rent in working-class areas of the bustling city, sheltering with their families in the hope that they can one day return safely to their home country.
'Revolution babies'
But for Salwa, a 31-year-old mother of six, Lebanon was not the refuge she hoped it would be.
She was four months pregnant with triplets when she fled from Tal Kalakh, hoping to find safety after the town was raided and her nephew was arrested.
"I was so afraid from all the tanks and the shooting. We saw the tanks on the street. When the shabiha (Syrian militia) attacked I was so frightened."
But when she went into labour – two months early, because of her ordeal – the hospital told her she would have to pay $2,000 (£1,300) to give birth, so she had to return to Homs.
She says she was terrified going past security at the border – fearing for the lives of her unborn children – but that she managed to find a hospital in a quiet area free from the unrest. Fortunately, all three were born healthy.
"I believed at least one of them would die," she says, as she tucks a blanket around one of the babies. "They are revolution babies," she adds, smiling.
The family of eight live in one room, and Salwa says any house in Syria would be better, but says she does not know if they will ever be able to go home. "I'm scared of Bashar. If he doesn't go then it's impossible to return."
Those like Salwa receive help from a network of activists operating in Tripoli, who co-ordinate donations of supplies to refugees, such as clothes and a baby milk.
One of the activists, Mohamed, a 22-year-old dental student, deals with those who are wounded, helping arrange beds in a private clinic and organising medication for them, including collecting blood.
"The injured come alone so they need us," he says.
He says there is usually one new casualty a day, most of whom have suffered bullet wounds – or occasionally injuries from heavier weapons. He says the latest case is a man who lost his foot from a landmine on the border, and who is now in intensive care.
He says that Lebanese state hospitals will treat urgent cases, but that patients are discharged after a few days.
'Begging to die'
For many, he says, the trek across the border is the only option, as hospitals in Syria are no longer safe.
Thirty-year-old Hassan was being treated for a bullet wound in a hospital in Baniyas when it was raided by security forces and he was arrested.
He was taken to a different hospital – but instead of being treated, he was tortured.
He describes how syringe needles were used to stab him all over his body, how he was urinated on when he asked for water, how his hands and feet were kept handcuffed to the bed as he was beaten.
He was taken to another hospital, and later to a security building in Damascus. "On the bus on the way I was beaten for hours with a gun," he said.
"I was crying. Everyone was crying, begging for them to kill us."
After more than a month of further torture in several other locations, and no treatment for his wound, he was released.
Once in Lebanon, his wound was treated and he feels safe, although he says he suffers from a kidney ailment which he cannot afford the medication for.
He pulls up his top to show where a bullet entered and then exited his body.
"I suffer pain at night. I can't work. I can't do anything here."
"But I can't go back as long as Bashar is there. I would be killed."
BBC