Maronite leaders support Orthodox' proposed electoral law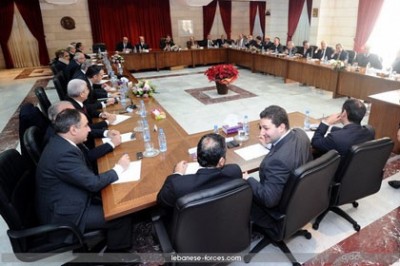 Maronite leaders agreed Friday to support the Orthodox Gathering's draft electoral law, and agreed to form a committee to discuss the proposed law with Lebanese officials.
The electoral law proposal by the Orthodox Gathering, calls for each sect to elects its own lawmakers to ensure fairer representation.
The leaders said that they consider the proposal of Orthodox Gathering as a valid formula to achieve fair and effective representation" for Christians and enforces coexistence and equality between Muslims and Christians according to a statement released after Maronite leaders met
"The electoral law aims at reaching election results that reflect popular will and true representation between all components of society and especially for the principle of equality," the statement added.
Headed by Maronite Patriarch Beshara Rai, the meeting Friday gathered rival politicians such as former president and current Phalange party leader Amine Gemayel, Lebanese Forces chief Samir Geagea, the leader of the Free Patriotic Movement Michel Aoun and Marada Movement leader Suleiman Franjieh.
The statement also said that failure to achieve equal representation threatens stability in Lebanon.
The Orthodox Gathering, which includes businessmen, politicians and Greek Orthodox clerics, was formed earlier this year in protest at what they say is the marginalization of the Greek Orthodox sect in Lebanon.
Geagea said on Friday that he was "satisfied" with the results of the Christian Maronite meeting according to a statement issued by his press office.
"We discussed [issues] in a manner that [strengthens] coexistence, where no Lebanese feels left behind."
Geagea praised the Orthodox proposal and said it is in accordance with the Taif Accord.
Asked to comment on the difference between an electoral law based on proportionality and the proposed law Geagea said :"The Orthodox proposal "guarantees proper representation in a better way."
Gemayel said following the meeting that the circumstances in Lebanon call for consultations between Lebanese components.
"We have to reach an agreement that provides national balance and good representation," he added.
Opposition
The Civil Campaign for Electoral Reform (CCER) on Friday voiced its disappointment that the Maronite meeting "adopted the Orthodox proposal pertaining to the electoral law."
CCER said that the proposal is a violation of the Lebanese citizen's rights because it paves the way for sectarianism and undermines the principle of co-existence.
It also voiced the importance of adopting an electoral law based on proportional representation with democratic standards.
CCER called on all leaders, particularly those who met earlier today in Bkirki, to reconsider all the decisions they made concerning an electoral law for the 2013 parliamentary elections.
Lebanese parties are presently debating the electoral law for the upcoming parliamentary elections.