Syrian defectors hit back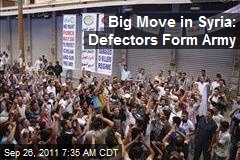 Army defectors ambushed a Syrian security patrol Tuesday, killing seven in revenge for a raid that cost 11 civilian lives, activists said, as the UN estimated more than 5 000 have died in the crackdown.
State media said Syrian border guards shot dead two "terrorists" from Turkey in other violence after a UN Security Council meeting at which Western nations stepped up pressure to condemn the deadly campaign against dissent.
At the meeting, UN rights chief Navi Pillay gave the latest death toll – amounting to a jump of 1 000 in less than two weeks – as she appealed to the Council to launch a crimes against humanity case.
Pillay's private briefing to the 15-nation council – where Russia and China blocked a resolution condemning Syrian President Bashar al-Assad in October – heightened divisions over how to respond to the Syrian violence.
She told reporters she had given the new toll of more than 5 000 dead – including some 300 children – and recommended that the crackdown by Assad's regime be referred to the International Criminal Court.
"The widespread and systematic nature of the killings, the detentions and the acts of torture – I felt that these acts constituted crimes against humanity," said Pillay.
The "intolerable" situation in Syria – where more than 14 000 people have been detained – has seen 12 400 flee into neighbouring countries since protests erupted in March, she said.
"Inaction by the international community will embolden Syrian authorities, and ensure perpetrators go unpunished," Pillay said.
The Security Council meeting came as Western nations ramp up pressure to condemn Assad's campaign.
"I think it is necessary that those countries in the Security Council which are still hesitating change their mind," German Foreign Minister Guido Westerwelle said after meeting Pillay.
France's UN envoy said the council was "morally responsible" for the daily deaths by staying silent.
But Syrian ally Russia said Western accusations that it was blocking UN action condemning the crackdown were "immoral" because the West was refusing to put pressure on armed rebel groups.
"There are those who refuse to put pressure on the armed, extremist part of the opposition and are at the same time accusing us of blocking the UN Security Council's work. I would call this position immoral," Foreign Minister Sergei Lavrov said in televised comments.
Amid the diplomatic wrangling, the death toll continued to mount on Tuesday, when at least 21 civilians were killed, according to activists.
"Seven security force members were killed in an ambush by deserters on a convoy patrolling the Idlib-Bab al-Hawa road in response to the martyrdom of 11 civilians this morning," the Observatory said.
The 11 died when they were attacked by security forces and pro-regime Shabiha militiamen in two villages in north-western Idlib province, it said earlier.
Eight others were later killed and 19 wounded in a separate incident in Kafr Yahmul, also in Idlib province, when troops fired on crowds attending funerals, according to the Observatory.
Syrian opposition sources based in Turkey said Syrian security forces shot dead a Saudi-Turkish citizen, Mohammed Munir Dolar, as he was travelling with his wife in his vehicle in Kafr Yahmul.
The sources, who requested anonymity, said Dolar was not attending any anti-government demonstration, and it was not immediately clear if his death was among those mentioned in other reports.
State-run SANA news agency said border guards shot dead two "terrorist" infiltrators who were attempting to enter Syria from Turkey.
Ankara denied it was allowing attacks to be carried out on Syrian forces from its territory.
"Turkey never allows any attacks against other countries and neighbours from its soil," a Turkish diplomat told AFP, requesting anonymity.
The diplomat said Turkey now hosts 8 525 Syrians who have fled across the border to escape the crackdown, up from 7 500 refugees previously.
Colonel Riyadh al-Asaad, who heads the Free Syrian Army, is based in a Turkish border camp and, unlike some other dissidents, has called for foreign air strikes.
In restive Homs province, meanwhile, security forces shot dead two civilians including a 60-year-old man, activists said, as a blast tore through a gas pipeline near Rastan, according to SANA, which blamed "terrorists."
Britain, France, Germany, Portugal and the United States are waiting for the result of Arab League meetings on Syria in coming days to decide their next UN move, diplomats said.
Russia's UN ambassador Vitaly Churkin said that since the council passed a statement on Syria on August 3, events had seen the West "switch gears and turn into regime-change mode, discouraging dialogue."
NATO has strongly denied any plan for military action in Syria
IOL.COM