Maliki urges U.S. firms to help rebuild Iraq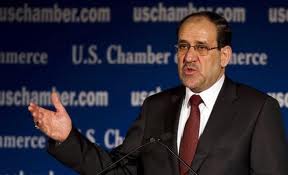 Iraqi Prime Minister Nuri al-Maliki on Tuesday called on U.S. companies to help rebuild his war-battered country, which is facing a new challenge as U.S. troops withdraw by the end of the year.
"As much as we committed to defeat terrorism, we are now committed to grow the private sector," Maliki said in a speech at the U.S. Chamber of Commerce.
"It is now not the generals, but corporations and business leaders who will be at the front of this stage."
He told the packed crowd of U.S. business officials Iraq has the opportunity to work with companies from all over the world to rebuild itself after three decades of war.
But it believes the United States has the "best companies" to help it help it diversify its economy away from one heavily dependent on oil, Maliki said.
"We are not satisfied with the number of American companies in Iraq," he said, adding the Iraqi government would make it "as easy as possible" for U.S. companies to invest.
The withdrawal of almost all U.S. troops from Iraq by December 31 marks a new chapter in the country's post-war development, which both Iraqi and U.S. officials have sought to cast as the beginning of a more normal relationship that could help create badly need jobs in both countries.
Maliki led a delegation that included top Iraqi trade, investment and transportation officials and about 30 to 40 business leaders from energy, construction, health care and other sectors eager to make deals with American companies.
The U.S. Commerce Department will host a "matchmaking session" on Wednesday to allow interested U.S. and Iraqi companies to meet one-on-one.
RAPID GROWTH GOING FORWARD
President Barack Obama, at a press conference with Maliki on Monday, said the United States had an "enduring" commitment to Iraq's success after "an enormous investment of blood and treasure" and also touted the opportunities for U.S. businesses in the country of 30 million people.
"In the coming years, it's estimated that Iraq's economy will grow even faster than China's or India's. With oil production rising, Iraq is on track to once again be one of the region's leading oil producers," Obama said.
Commerce Secretary John Bryson picked up on those themes in his remarks at the U.S. Chamber of Commerce.
Iraq's plan to spend about $186 billion over the next five years on more than 2,700 development projects is a promising opportunity for U.S. companies that will also help put people back to work in the United States, Bryson said.
The United States currently trails other countries in investing in Iraq, despite the heavy price it has paid over the past decade in the country.
"I sense, however, with this visit this week, we are poised for a reversal of that trend," said Lionel Johnson, vice president for Middle East at the U.S. Chamber of Commerce.
Almost 4,500 U.S. troops have died in Iraq since 2003 and the war has cost the United States some $1 trilllion.
U.S. exports of mainly farm goods, drilling and telecommunications equipment to Iraq are on the rise this year and could total about $2.5 billion, the highest since the United States invaded the country in 2003.
But that is still small compared to U.S. exports to Saudi Arabia or the United Arab Emirates, which will exceed $12 billion in both markets this year.
U.S. companies, worried about security and financial risk, have largely stayed away from doing business in Iraq. But there are some signs that could be changing.
U.S. SHARE OF MARKET RISING
A report prepared by Dunia Frontier Consultants, based in Washington and Dubai, estimated that U.S. companies accounted for just 1.7 percent of non-energy-related foreign commercial activity in Iraq in 2010.
But preliminary estimates for 2011 show the U.S. share of foreign commercial activity in Iraq has risen to 11.6 percent, or $8.085 billion, Dunia said.
That includes Lockheed Martin's sale of F-16 fighter aircraft, an expected Boeing deal to sell 45 civilian airplane and contracts signed by Hill International and one of its subsidiaries to provide housing construction management services, Dunia said.
The same report estimated overall foreign commercial activity could double the 2010 figure of $42.7 billion.
Iraq's "required investment is massive across the board, but it needs to happen in sequence," Nicholas Skibiak, director of analytics for Dunai, told Reuters.
Investment in energy projects will produce revenue and also generate much-needed electricity for other sectors.
Similarly, investment in heavy industries such as cement and steel lays the foundation for real estate development, including more housing, Skibiak said.
Reuters