Jumblatt advises Hezbollah to distance itself from Syria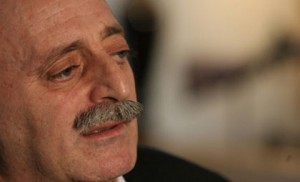 Progressive Socialist Party leader Walid Jumblatt urged Hezbollah to distance itself from the Syrian government and called on the group's leader to convince Damascus to agree to the Arab League's initiative to end unrest in the country.
"I advise Hezbollah not to be completely attached to the Syrian regime and [Hezbollah] should advise the regime that the best solution lies in the Arab League initiative and for it to abandon security measures," Jumblatt told Al-Majalla magazine in an article published over the weekend.
"[Hezbollah leader] Sayyed Hasan Nasrallah should advise [Syrian President] Bashar Assad of the need to implement reforms for a populist, democratic Syria that is open to all political movements," he added.
Nasrallah, a close ally of Syria in Lebanon, has repeatedly voiced support for the Syrian leader and, like Assad, says Lebanon's neighbor is facing a conspiracy aimed at toppling the pro-resistance government. While acknowledging the need for reform in Syria, Hezbollah has criticized Arab efforts to end the crisis in the country, arguing that many Arab states have yielded to a Western agenda against Assad.
"I don't agree with Nasrallah. There is no conspiracy in Syria. The regime has made a fatal mistake against citizens in Deraa and it was not resolved and no one was held accountable for the crimes," said Jumblatt, who earlier this year realigned with Hezbollah.
While warning that the situation in Syria was very sensitive, Jumblatt urged rival Lebanese politicians to relax their positions toward Syria and resume national dialogue.
"Those who are attached to the Syrian regime should recognize that they're being hostile to the majority of the Syrian people. Also those who are betting on the fall of the Syrian regime should recognize the sensitivity of the internal and sectarian situation in Syria," Jumblatt said.
Throughout the interview, the PSP leader repeatedly accused Assad of prolonging the crisis, which the U.N. estimates has left some 4,000 Syrians, mostly civilians, dead.
"I have advised the Syrian president repeatedly of the need for reform but it seems that the will to adopt a security solution is stronger than the will to reform," he said.
Jumblatt spoke about Iran's role in the region, and on the subject of resisting Israel he said the Islamic Republic should acknowledge the right of Arabs to decide how to confront Israel.
"If the Iranians insist on the principles of resistance in the face of Israel in their own way, they need to know that the Syrian and Lebanese people as well as Arab people are basically resistant. We do not need lessons from anyone."
Jumblatt's recent statements have seemed closer to the positions of the opposition March 14 coalition, prompting analysts to suggest that the PSP leader, who has described himself as a centrist politicians, might be again switching alliances.
"I do not stand neutral. I am committed to this government. There is a coalition between myself, Prime Minister Najib Mikati along with the Free Patriotic Movement and the resistance [Hezbollah]."