Rai for limiting arms possession in Lebanon to legitimate forces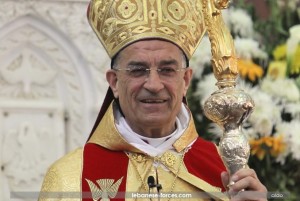 During his sermon on Sunday Maronite Patriarch Bechara Boutros al-Rai condemned the blast which wounded five French peacekeepers in southern Lebanon this week, National News Agency (NNA) reported.
"We strongly condemn this blast , which was an attack on peace, on the sacrifices made by the international troops, and on France's dignity and the countries involved [in UNIFIL]. It was even an attack on Lebanon's dignity," Rai said during his sermon
Rai called on Lebanese officials to work seriously on limiting the possession of arms in Lebanon:
"They should work seriously on limiting the possession of arms in Lebanon to the legitimate security forces and leave all defense and security decisions to the political authorities. He added
"It is no longer acceptable for the country to remain hostage to any side and under any excuse," he stressed.
Rai came under fire earlier in September from the opposition March 14 parties but won praise from March 8 politicians for his comments during his visit to France . "Syrian President Bashar al-Assad is open-minded and should be given more chances to implement the reforms" he announced.
He also indirectly defended Hezbollah's arms by linking the party's arsenal to the termination of Israeli occupation of Lebanese territory and the return of Palestinian refugees to their homeland .
"only when the international community exerts pressure on Israel to vacate the occupied Lebanese territory ( the Shebaa Farms, Kfar Shouba hills and the Lebanese part of the disputed border village of Ghajar ) and Israel allows Palestinians in Lebanon to return to their homes, can Hezbollah be asked to hand over its arms because they will no longer be needed." He said during his visit.
The patriarch claimed after returning to Lebanon that the remarks he made while in Paris "were taken out of context and have nothing to do" with his personal opinion, but reiterated his controversial position on Syria and Hezbollah's arms during a meeting last October with President Michel Suleiman at the Baabda palace.
One observer told Ya Liban: "It remains to be seen whether the patriarch has actually changed his views about illegal arms in Lebanon…"