Aoun says his ministers to attend the cabinet meeting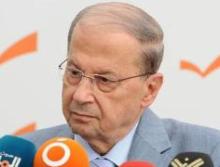 Free Patriotic Movement leader Michel Aoun found on Wednesday an excuse for his ministers to attend the cabinet session later in the day .
Following talks with Marada chief Suleiman Franjieh, Tashnag Secretary-General Hovig Mekhitarian and Lebanese Democratic Party leader Talal Arslan in Rabieh Aoun said :
"We decided to participate in today's cabinet session because includes in its agenda the draft on wages which we proposed ,"
He announced that the ministers representing his Change and Reform bloc in the government would participate in a cabinet session .
"We hope that the draft on wages would be approved so that everyone could enjoy the holidays," Aoun said but hinted that his ministers would boycott the sessions again if their demands were not met.
There were reports that the Marada leader was instructed by Syrian president Bashar al Assad to mediate between Aoun and PM Nagib Mikati . Franjieh reportedly threatened Aoun that he will quit the Change and Reform bloc if Aoun insited on boycotting the cabinet sessions.
According to the reports Assad considers the Lebanese cabinet vital for the survival of his regime specially because of the sanctions that were imposed on Syria by the Arab League