Russian elections spark protests by opposition, Putin supporters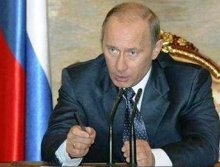 Police hauled away about 300 protesters Monday night after thousands of demonstrators gathered near a metro station chanting "Russia Without Putin" and "We Need New Elections."
The protest, the largest opposition gathering in years, follows a poorer-than-expected showing by Prime Minister Vladi­mir V. Putin's ruling party in Sunday's parliamentary election.
The election was expected to be predictable, and voters apathetic. Instead, Putin's United Russia Party won slightly less than half the vote — enough to retain control of the Duma, but far less than in previous years, and a sign of vulnerability for Putin's formidable political machine.
After extensive reports of electoral misconduct raised the possibility that United Russia's tempered victory was itself inflated, the next surprise was the protest Monday night.
Crowds of mostly young people — largely written off as indifferent to politics — gathered after international monitors described widespread ballot-stuffing throughout the country and interference by the administration in the campaign.
The rally was sanctioned by the authorities. But when the burgeoning numbers began leaving the park at the Chistye Prudy metro station to march toward the offices of the Central Election Committee, ignoring police orders to stop, the detentions began. Organizers said 300 people were taken away, although many were released by Tuesday morning.
Two organizers of the rally were known to remain in custody Tuesday: Ilya Yashin, a leader of the Solidarity movement, who was given a 15-day sentence, and Alexei Navalny. a popular anti-corruption blogger. Other activists also reportedly had not been released, though how many was unclear.
More protests were planned Tuesday, both by young people opposing the government and those supporting it. Late afternoon Tuesday, 11 busloads of people supporting the Kremlin were observed heading toward the center, escorted by the traffic police.
The Interior Ministry had brought more than 50,000 troops into Moscow for the election weekend, and they remained on the alert. Some took up posts around locations where demonstrations are usually held. Many were visible around the Manezh, a square near the Kremlin where the pro-Kremlin Nashi group of young people, an organization nurtured by the authorities, were gathering in support of United Russia.
Large gatherings of any kind are always accompanied by a large police presence, and Monday night's demonstration was no different. On Dec. 31, 2010, police detained 68 protesters out of a crowd of about 200 people demonstrating in support of the freedom of assembly guaranteed by Russia's constitution. A prominent opposition politician, Boris Nemtsov, was arrested then and spent 15 days in jail. On Oct. 31, 800 gathered for the same cause and 28 were arrested.
The largest recent protest was last year on Dec. 11, when about 5,500 nationalists rallied near the Kremlin, demonstrating against non-Russian ethnic groups. Then, 65 were arrested in the unsanctioned rally, and 32 were hospitalized after fights.