Aoun: Cabinet could collapse if same situation continues in Lebanon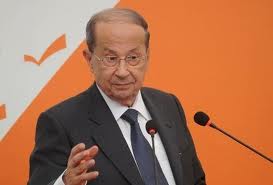 Following the Change and Reform bloc's weekly meeting on Tuesday Free Patriotic Movement leader MP Michel Aoun told reporters that if the situation in Lebanon continues the way it is, then the government will collapse.
"If the situation continues as is, then those who have been demanding the resignation of cabinet have been right. " Aoun said
He said that the Change and Reform bloc has not decided yet on whether to participate in Wednesday's cabinet meeting or not .
"We will take the decision tomorrow after lunch," he said
He went on to explain what happens during a caretaker cabinet
"The resignation of government does not mean that the ministers will stop working , but they will continue their roles until a new cabinet is formed," he stated.
Aoun's ministers boycotted a cabinet session earlier this month, and called on the government to carry out several projects that are at a stalemate after Prime Minister Najib Mikati threatened to resign if the cabinet fails to provide its share of funding the Special Tribunal for Lebanon, which is probing the assassination of former Premier Rafik Hariri
Aoun did not indicate what action the bloc will take tomorrow , saying that it will "make a small surprise" every once in a while.
"If the situation is so out of control, then we will step down and we can do so whenever we want," the MP stressed.
He denied that Marada Movement leader MP Suleiman Franjieh was mediating between the bloc and Prime Minister Najib Mikati in order to end the dispute.
Aoun thanked Hezbollah chief Sayyed Hassan Nasrallah for supporting his demands and criticized the performance of the government .
"We thank Hezbollah chief Sayyed Hassan Nasrallah for his support of our demands. We will list the government's accomplishments from now on. What has this government done in six months besides the funding of the STL? "
10 out of the 30 ministers in the cabinet represent the Change and Reform bloc.
In an indirect reference to President Michel Suleiman, Aoun said: "Others should understand that we represent the people and we will not hand over power to those who don't have proper representation."
"We are working for the whole of Lebanon and they should protest whenever we discriminate against anyone," he remarked.