Abdullah Azzam Brigades link Hezbollah, Syria to the rocket attack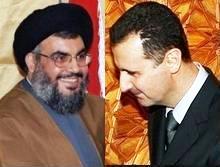 Abdullah Azzam Brigades denied any responsibility for the recent rocket attack from southern Lebanon against Israel and instead blamed a group linked to Hezbollah for the attack
In a statement the militant group said the November 29 attack should be seen as a warning to the West and Israel from the embattled Syrian President .
"This operation was carried out in favor of the tyrant, Syrian President Bashar [al-Assad , by his ally in Lebanon, Hezbollah," the statement said.
"The operation was conducted by members of a faction which is known to have [good] relations with Hezbollah."
"The Brigades declared that the attack … is to be construed as a message from Assad to Israel and the West, that if his regime is made to fall, then the field will open to the youth of the Sunni people to attack the Jewish state," the statement said.
The group gave examples of what it said was Syria's and Hezbollah's "cunning," claiming, for example, that Syrian intelligence was behind the March kidnapping of seven Estonian cyclists in Lebanon's Bekaa region.
The seven were freed unharmed last July.
The Brigades in their statement said it was clear that Damascus and its Lebanese ally Hezbollah were keen for political reasons to blame the group for any security incidents in Lebanon, including a July attack on U.N. troops.
OTV reported on Tuesday that Abdullah Azzam Brigades claimed responsibility for the rocket launched from south Lebanon into Israel .
Abdullah Azzam Brigades is an Islamist militant group affiliated with Al-Qaeda .The group, which began operating in 2009 is named after the late Sheikh Abdullah Azzam, a Palestinian from Jordan who was among the first Arabs to volunteer to join the Afghan jihad against the forces of the then Soviet Union in Afghanistan in the 1980s.
Lebanon files complaint
Lebanon's Foreign Ministry filed on Monday a complaint with the United Nations against Israel for shelling southern Lebanon last week
The ministry accused Israel of violating Lebanon's sovereignty and U.N. Security Council resolution 1701.
Israel reportedly shelled southern Lebanon after the rocket attack from southern Lebanon.