Syria sees allies as lifeline against sanctions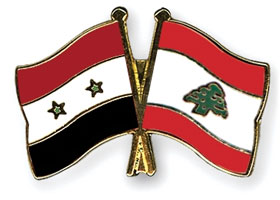 As Syria struggles to absorb Arab, European Union and Turkish sanctions, the policies of the few regional governments that have not turned against Damascus assume a new significance.
Recent sanctions may have hit confidence, with the Syrian pound reportedly slipping further against the dollar, but analysts say Iraq, Lebanon and Iran are likely to help Syria weather them in the short term.
"The door is not totally closed on the Syrians," said Ibrahim Saif, an economics expert at the Carnegie Middle East Center in Beirut.
The Arab sanctions, announced last Sunday, are only supposed to affect relations with the Syrian government, with calls for its assets in Arab countries to be frozen, and all transactions with its central and commercial bank suspended.
In practice however the relatively small size of the private banking sector in Syria and the difficulty experienced by many businessmen in obtaining letters of credit mean that many trade and other transactions are thought to be processed through the sanctioned state financial facilities.
Further sanctions have been threatened if Syria does not agree by the end of Sunday night to let Arab League observers in to the country. It was unclear whether any agreement had been made.
It is not clear how vigorously Iraq, Syria's largest Arab trading partner, which did not vote in support of the sanctions at Sunday's Arab League meeting, will implement the measures. Iran, Syria's closest ally, exerts a significant influence in Baghdad.
A few days after the Arab sanctions were announced, a delegation of Iraqi businessmen came to Syria with the aim of "enhancing trade and investment relations between Syria and Iraq", according to Syrian state news. This year, at a time when other Arab countries were recalling their ambassadors, Iraq entertained more than 100 Syrian businessmen in an effort to boost trade between the two countries. The week-long visit yielded a pact designed to boost a soaring bilateral trade that already tops $2bn a year.
Beirut meanwhile, where Syrian allies have the majority of seats in the cabinet, is expected to become a finance hub for Syrian businesses, a role it occupied before economic liberalisation measures introduced in Syria in the early 2000s.
According to Samir Seifan, an economist now affiliated with the Syrian opposition, importers are likely to set themselves up in Lebanon, getting letters of credit from Lebanese banks. "Lebanon will be the door for Syria," he said.
It is unclear how the sanctions will affect Lebanon's banking sector. Lebanese banks have close ties to Syria, but are also under a lot of international scrutiny, and fear reputational risk. Bankers are faced with confusingly contradictory signals about whether and how sanctions are to be carried out, with the foreign minister saying Lebanon would not implement them, the economy minister saying that it would, and the central bank governor saying no action was required because Syrian government institutions had no deposits with them.
"We still don't know what the implementation would be," said one member of the banking industry. "There's a lot of uncertainty."
Syria's strongest economic lifeline is still Iran itself, which has billions of dollars of investments at stake in Syria, ranging from energy and construction to automobiles and cement.
Joint Syrian-Iranian ventures include a $60m car factory with Iran's Khodro Company and the acquisition of 5,000 new buses from Iran aimed at helping upgrade the country's public transport network.
According to Ayham Kamel of the Eurasia consulting group, Iran could help Syria weather the sanctions by buying their crude oil (which is now under European and American sanctions) or by allowing it to pay for imports in Syrian pounds.
Undoubtedly, say analysts, Syria's economy is suffering. "Even with help from Iran, Iraq and Lebanon, Syria's GDP could contract by over 10 per cent next year, " said Said Hirsh at Capital Economics.