Jumblatt: Tribunal is a minor issue when compared to a civil war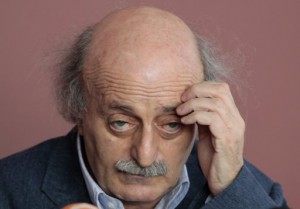 "What's happening in Lebanon, around us and in Syria could turn the tribunal ( Special Tribunal for Lebanon, STL ) into a minor issue if there was a civil war in Lebanon," Progressive Socialist Party chief Walid Jumblatt said on Sunday as he laid a wreath on the grave of his slain father Kamal Jumblat on the occasion of his birthday.
The bickering on the Special Tribunal for Lebanon and the so-called false witnesses is a waste of time , he said. "Former PM Saad Hariri's answer to Hezbollah chief Sayyed Hassan Nasrallah is neither beneficial nor positive."
Jumblatt was referring to Hariri's response to Nasrallah's attack on him and to Nasrallah's call on Mikati to put the issue of false witnesses on the cabinet agenda and later refer it to the Higher Judicial Council to prosecute those standing behind the witnesses.
The false witnesses have allegedly misled U.N. investigators probing the assassination of former PM Rafik Hariri.
Jumblatt called on the people of Jabal al-Arab ( Druze stronghold of Syria ) not to be drawn into the sedition and murder their brothers in other areas of Syria stressing that the Arab initiative is the only salvation for Syria.
Jumblatt's father Kamal was an important Lebanese politician. He was the main leader of the anti-government forces in the Lebanese Civil War until his assassination by the Syrians on March 16, 1977