UN wants Lebanon to fully cooperate with STL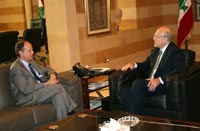 United Nations Special Coordinator for Lebanon Robert Watkins conveyed on Thursday to Prime Minister Najib Mikati "the UN's expectations that Lebanon would continue to uphold its remaining international obligations and to cooperate fully with the Special Tribunal for Lebanon (STL)."
Following his meeting with Mikati, Watkins said he expressed to the PM "how much the United Nations welcomed the step which Lebanon took yesterday towards fulfilling its financial obligations towards the STL," which is probing the 2005 assassination of former Prime Minister Rafik Hariri.
"This is a very important step for Lebanon towards meeting its international obligations and towards preserving the country's stability," Watkins added.
Also U.N. chief Ban Ki-moon telephoned Mikati to congratulate him on his decision to transfer the funds to the Special Tribunal for Lebanon, the premier's office said on Thursday.