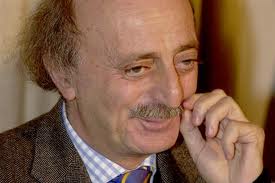 Progressive Socialist Party leader MP Walid Jumblat praised on Thursday Prime Minister Najib Mikati's decision to fund the Special Tribunal for Lebanon (STL) .
"We salute PM Mikati and highly value his move…which reflects Lebanon's commitment to international resolutions," Jumblatt said in a statement.
He criticized however the reactions of the opposition, which he described as "unreasonable."
"Some opposition members should have reacted to it positively rather than focusing on their personal interests." He said and added :"Given the critical regional situation, the funding should have required all the Lebanese to deal with it sensibly," he stressed.
The MP praised Speaker Nabih Berri's efforts that helped reach a solution to the dispute over the funding.
"The solution should help ease the internal tensions and hopefully pave the way for a new phase of effective governmental functioning that looks beyond petty interests and instead tackles the people's daily concerns," he said.
Mikati announced on Wednesday during a press conference that he had transferred Lebanon's share of the STL budget.
Jumblatt , who defected from March 14 alliance following the 2009 parliamentary elections has been a strong supporter of the Tribunal . On November 10 during an interview on Al-Arabiya television he urged Hezbollah to allow Premier Najib Mikati's government to pay Lebanon's annual 49% share of funds to the U.N.-backed court.
"We've heard Hezbollah describe the suspects (in the 2005 assassination of former PM Rafik Hariri) as 'sacred', but they must understand that those who were martyred, starting from Rafik Hariri all the way to (slain MP) Antoine Ghanem … are also 'sacred'," Jumblatt said
"Why don't they go defend themselves in court?" Jumblatt suggested, warning that "boycotting the tribunal would harm Lebanon."
This error message is only visible to WordPress admins
Error: No connected account.
Please go to the Instagram Feed settings page to connect an account.