Britain orders Iran's diplomats to leave UK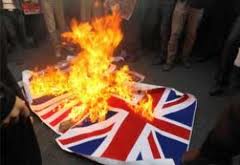 Britain ordered all Iranian diplomats out of the U.K. within 48 hours and shuttered its ransacked embassy in Tehran on Wednesday, in a significant escalation of tensions between Iran and the West.
The ouster of the entire Iranian diplomatic corps deepens Iran's international isolation amid growing suspicions over its nuclear program. At least four other European countries also moved to reduce diplomatic contacts with Iran.
The British measures were announced by Foreign Secretary William Hague, who said Britain had withdrawn its entire diplomatic staff after angry mobs stormed the British Embassy compound and a diplomatic residence in Tehran, hauling down Union Jack flags, torching a vehicle and tossing looted documents through windows.
The hours-long assault Tuesday was reminiscent of the chaotic seizure of the U.S. Embassy in 1979. Protesters replaced the British flag with a banner in the name of a 7th-century Shiite saint, Imam Hussein, and one looter showed off a picture of Queen Elizabeth II apparently taken off a wall.
"The idea that the Iranian authorities could not have protected our embassy or that this assault could have taken place without some degree of regime consent is fanciful," Hague told lawmakers in the House of Commons.
The diplomatic fallout from the attack quickly spread to other Western countries with embassies in Iran. Norway announced it was temporarily closing its embassy as a precaution, and Germany, France and the Netherlands all recalled their ambassadors for consultations. Italy said it was considering such a recall.
Iran currently has 18 diplomats in Britain. About 24 British Embassy staff and dependents were based in Tehran.
The White House condemned the attacks and spokesman Josh Earnest said the U.S. backed Britain's ejection of Iranian diplomats.
European Union foreign ministers were to meet Thursday to consider possible new sanctions against Tehran.
France's budget minister, Valerie Pecresse, said the EU should consider a total embargo on Iranian oil or a freeze on Iranian central bank holdings. British officials said the U.K. would likely support new measures against Iran's energy sector.
Hague claimed those involved in Tuesday's attack were members of a student group allied with the Iranian Revolutionary Guard's paramilitary Basij organization, which recruits heavily on university campuses.
"We should be clear from the outset that this is an organization controlled by elements of the Iranian regime," he said.
Hague told Parliament the private quarters of staff and Britain's ambassador were trashed in the attack and that diplomats' personal possessions were stolen.
"This is a breach of international responsibilities of which any nation should be ashamed," he said.
Some were alarmed by Hague's tough tone. David Miliband, Britain's former foreign secretary, said he hoped the robust words would not become "part of the very unwelcome drumbeat of war."
Iran's government has publicly expressed regret about the "unacceptable behavior" of the protesters, whose attacks began after anti-British demonstrations apparently authorized by authorities.
However, regime hard-liners have spoken out in support of the protesters, reflecting the deepening power struggle over which direction Iran might take in the future.
Mohammad Mohammadian, a representative of Iran's Supreme Leader Ayatollah Ali Khamenei, praised the attackers, saying they had targeted the "epicenter of sedition."
Iran's Parliament Speaker Ali Larijani said the "wrath of (the protesters) resulted from several decades of domination-seeking behavior of Britain."
The expulsion of Iran's diplomats and the withdrawal of Britain's officials from Tehran intensifies a rift that had deepened dramatically in the past week after Britain joined the United States and European Union in imposing new economic sanctions on Iran. The punitive measures followed a U.N. report offering new evidence suggesting Iran may be developing nuclear weapons.
On Sunday, Iran's parliament approved a bill to downgrade relations with Britain in retaliation.
The U.S. and many allies fear that Iran's nuclear program could eventually lead to nuclear weapons. Tehran insists it only seeks reactors for energy and fuel, but will not give up the technology to make its own nuclear fuel.
Tensions between Iran and the West were heightened in October when U.S. officials accused agents linked to Iran's Quds Force — an elite wing of the powerful Revolutionary Guard — of a role in an alleged plot to kill the Saudi ambassador to the U.S.
Britain previously ordered Iran to remove its diplomats in 1989, when the two nations broke off ties over a fatwa, or religious edict, ordering Muslims to kill British author Salman Rushdie because his novel "The Satanic Verses" allegedly insulted Islam.
Iran's tensions with Britain date back to the 19th century, when the Persian monarchy gave huge industrial concessions to London, which later included significant control over Iran's oil industry. In 1953, Britain and the U.S. helped organize a coup that overthrew a nationalist prime minister and restored the pro-Western shah to power.
More recently, Iran was angered by Britain's decision to honor Rushdie with a knighthood in 2007, and over its involvement in Western scrutiny of Iran's nuclear program.
In March 2007, Iran detained 15 British sailors and marines for allegedly entering the country's territorial waters in the Gulf — a claim Britain denies. The 15 were released after nearly two weeks in captivity.