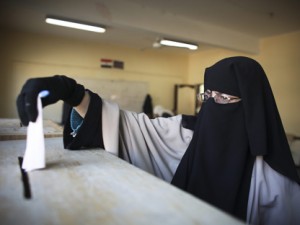 A Canadian monitoring Egypt's election says people there are embracing this historic event as a "turning point" in the country's history, noting he has not come across any indications that intimidation or vote tampering are taking place.
"There is a feeling of optimism, a feeling of participation," Leslie Campbell, a director with the Washington, D.C.-based National Democratic Institute, said Monday from Cairo. "Outside of many polling stations, you got the feeling that this is a turning point, that they're getting to cast a ballot for the party of their choice."
He said the positive tone of the Egyptian election comes as a relief after violent protests last week had many worried about how this process would play out.
"Most Egyptians were very discouraged about the future, discouraged about where the revolution was going," he said.
The overall elections, which consists of multiple rounds, will not result in a new government until the new year. The current round was scheduled for Monday and Tuesday. It marks an important milestone in being the first chance Egyptians have had to choose their government since the fall of former president Hosni Mubarak amid protests nine months ago.
Campbell noted that because turnout was higher than expected, polling hours were extended by two hours Monday.
He said there was a heavy presence of military and police at polling stations, but from what he could tell, voters were comforted rather than threatened by it.
"I talked to a couple of Egyptians and I said, 'How do you feel about all this security?' and they said that they felt reassured; it gave them a feeling that things were under control."
Now based in Washington, Campbell is a Canadian who has previously worked for Canadian politicians, such as former federal NDP leader Audrey McLaughlin and ex-Manitoba premier Gary Doer, who is now Canada's ambassador to the United States.
Because of the distractions the protests caused leading up to this election, Campbell said campaign efforts only became highly visible in the days just prior to voting.
He said campaigning continued during voting, with many candidates and party agents greeting people waiting in line outside polling stations. In some instances, political organizations were providing snacks and drinks for those waiting to vote, Campbell said.
"Some of these polling places were extremely lively with the campaigning, with the brochures, with the get-out-the-vote efforts," he said. "Let's put it this way, you really had a sense that there was a contest."
While it's his understanding that campaigning so close to a polling station on election day is illegal in Egypt, as it is in Canada, Campbell said he did not see police or military trying to prevent such activities. He added that people were generally happy to get more information on the people and parties running for office.