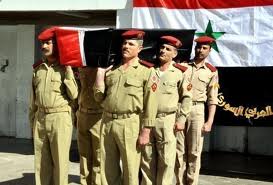 Syria buried 22 members of the armed forces Saturday, including six elite pilots, as the government reinforced its message that the 8-month-old revolt against President Bashar Assad is the work of terrorists and foreign agents, not patriotic Syrians seeking reform.
But with no sign of violence abating, Arab ministers were preparing plans for economic sanctions against the country. If the Arab League were to go ahead with the move, it would be a huge blow for a regime that considers itself a powerhouse of Arab nationalism.
Syria is facing mounting international pressure to end the bloody crackdown on the uprising against Assad's rule that the U.N. says has killed more than 3,500 people. The European Union and the United States have imposed several rounds of sanctions against Assad and his regime, including a ban on the import of Syrian oil.
"U.S. and European sanctions are one thing, but coming from the Arab brothers and sisters, it is psychologically and realistically much more damaging," said Nikolaos van Dam, a former diplomat and Middle East scholar.
Still, there is widely held skepticism the Arab sanctions would succeed in pressuring the Syrian regime into putting an end to the violence that has claimed the lives of dozens of Syrians, week after week. Many fear the violence is pushing the country toward civil war.
Until recently, most of the bloodshed was caused by security forces firing on mainly peaceful protests. But there have been growing reports of army defectors and armed civilians fighting Assad's forces — a development that some say plays into the regime's hands by giving government troops a pretext to crack down with overwhelming force.
Activists said fierce clashes took place Friday and Saturday between the Syrian military and army defectors, who have grown increasingly bold in attacking troops and security targets.
At least 13 civilians were killed Saturday, 12 of them in the flashpoint Homs province, activist groups said. The British-based Syrian Observatory for Human Rights said 10 soldiers were killed in overnight clashes with defectors in the country's east.
Also Saturday, an Egypt-based Syrian dissident alleged that his 25-year-old pregnant wife was abducted by Syrian intelligence agents in Cairo, then released and left unconscious on a street in the Egyptian capital. The Syrian Embassy in Egypt strongly denied the claim.
Thaer al-Nashef, a vociferous opponent of Assad's regime, said he received an anonymous text message saying the abduction was meant to teach him "not to insult your masters again."
An Egyptian police official confirmed al-Nashef had filed a kidnapping complaint but gave no details about the circumstances. The official spoke on condition of anonymity because he was not authorized to speak to the media.
Al-Nashef worked as a correspondent for Syria's SANA state news agency until 2006, when he became a regime opponent. He has lived in Egypt since 2007 and has been a vocal critic of the regime, appearing often on Egyptian TV stations to discuss the uprising.
Since the revolt began, the regime has blamed armed gangs acting out a foreign conspiracy for the bloodshed.
In a bid to reinforce that message, the Syrian Information Ministry took Syrian journalists to Homs for the funeral of 17 members of the armed forces killed recently in various attacks, including the six pilots and four technical officers who were killed in Thursday's ambush.
Syria has banned foreign journalists and prevented independent reporting, making escorted trips the only official way to cover events within the country.
Ghassan Abdul-Aal, the governor of Homs, insisted Saturday that the government would continue to target criminals.
During the funeral procession, 17 coffins wrapped in Syrian flags were carried by members of the armed forces, some of them in tears.
Many of the attacks against Syrian security forces are believed to be carried out by a group of army defectors known as the Free Syrian Army and other Syrians who increasingly have taken up arms against the regime.
Sobbing and burying her face behind his photo, the mother of Intisar Dayoub, one of the six pilots, urged the government to punish the perpetrators and to "hit with an iron fist against whoever tries to ruin our country."
Arab League economy ministers were meeting in Cairo Saturday to consider the possibility of sweeping economic sanctions against Syria. The move against a nation that was a founding member of the Arab bloc came after Damascus missed a deadline for agreeing to an observer mission aimed at stopping the violence.
It is not clear how or whether Arab sanctions would effectively impact the Syrian regime, especially without a mechanism in place to ensure compliance.
Syrian neighbors Iraq and Lebanon already have expressed reservations about the sanctions.
"There are hundreds of thousands of Iraqis living in Syria and there are trade relations and exchanged visits," Iraqi Foreign Minister Hoshyar Zebari said during a press conference in Najaf.
There are concerns that the unrest in Syria could send unsettling ripples through the region.
Syria is a geographical and political keystone in the heart of the Middle East, bordering five countries with whom it shares religious and ethnic minorities and, in Israel's case, a fragile truce. Its web of allegiances extends to Lebanon's powerful Hezbollah movement and Iran's Shiite theocracy.