Ahmad Hariri urges all the Lebanese to attend Tripoli gathering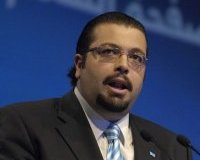 Secretary General of the Future Movement Ahmad Hariri said on Saturday during an interview with Future News TV that the popular gathering which is scheduled to take place in Tripoli on Sunday is going to be "peaceful."
Hariri said that the Lebanese security forces "have been accompanying us for the past three days in order to prevent any group from taking advantage of this gathering during which we will voice our opinion."
A popular gathering organized by the Future Movement is scheduled to take place on Sunday in the northern city of Tripoli on the occasion of Lebanon's Independence Day.
Hariri said the gathering is to celebrate Lebanon's independence at a time when the current events will determine the future of the country.
He said we are going to be in Tripoli the city that is behind Lebanon's second independence in 2005 .
He urged all the Lebanese to attend