Verbal war escalates between Aoun, Mikati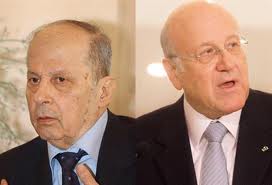 Earlier today the cabinet session was boycotted  by the minsters  of the  Change and Reform bloc which is headed by MP Michel Aoun . Aoun later told OTV in a phone interview that his ministers boycotted the cabinet session in response to Mikati's interview with LBC .
Lebanon's Prime Minister Najib Mikati told LBC on Thursday that he would resign if his government fails to secure funding for a UN-backed court set up to probe the February 14, 2005 assassination of former Lebanese Prime Minister Rafik Hariri.
"I refuse to be in the post where Lebanon fails to commit to its international obligations … I think by resigning, I would protect Lebanon," he told LBC television.
November   30 is  the date that was  set for the cabinet session which will discuss the STL funding
Aoun also accused Mikati of dictating the agenda of the ministerial sessions
Mikati responded by attacking Aoun and reminding him of article  64 of the constitution which is based on the Taef accord and which stipulates that the prime minister is the one that calls for  cabinet meetings and sets the agenda of all meetings after consultations with the president .
Aoun responded during a dinner in Jbeil that a person who is scared about his wealth cannot run the country  and instead should move aside and allow the poor people to rule .
Mikati was listed by Forbes as the richest man in Lebanon with over $2.5 Billion in assets .
The STL has been a topic of contention in Lebanon with the ruling coalition led by Shiite armed group Hezbollah rejecting any attempt to fund Lebanon's share of the court.
In late June, the UN-backed court indicted four members of Hezbollah for alleged roles in Hariri's assassination. The group denies any involvement in the case and refuses to cooperate with the court.
One observer told Ya Libnan. "Hezbollah is behind the verbal war between Aoun and Mikati ". He added" they are using Aoun because they are afraid to directly upset Mikati and force him to quit at a time when he may be the only legitimate Sunni leader that may be willing to serve in a cabinet that is dominated by the party and also because this cabinet is very important for the Syrian regime specially because Arab sanctions may be implemented at any time ".