Lebanese PM to quit if gov't fails to fund STL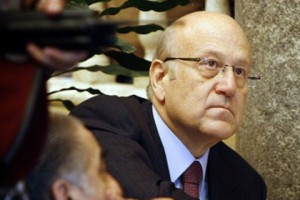 Lebanon's Prime Minister Najib Mikati said Thursday that he would resign if his government fails to secure funding for a UN-backed court set up to probe the February 14, 2005 assassination of former Lebanese Prime Minister Rafik Hariri.
"I refuse to be in the post where Lebanon fails to commit to its international obligations … I think by resigning, I would protect Lebanon," he told LBC television.
Mikati said Lebanon cannot be protected if his government fails to approve the funding for the Special Tribunal for Lebanon (STL).
The STL has been a topic of contention in Lebanon with the ruling coalition led by Shiite armed group Hezbollah rejecting any attempt to fund Lebanon's share of the court.
In late June, the UN-backed court indicted four members of Hezbollah for alleged roles in Hariri's assassination. The group denies any involvement in the case and refuses to cooperate with the court
In an interview on Thursday evening, Mikati said that funding the tribunal could be agreed upon and accomplished through national dialogue among rival politicians.
Speaking about the ongoing protests in neighboring Syria, Mikati said no one can predict the outcome of the protest and that Lebanese should not intervene in things that do not concern them.
Xinhua