STL president: Lebanon is 11 months late in paying its share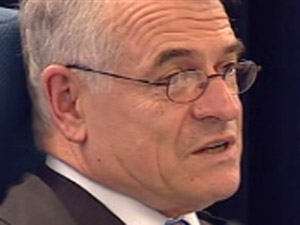 President Michel Suleiman met with Special Tribunal for Lebanon (STL) President Judge Sir David Baragwanath during his first visit to Lebanon since he was appointed , National News Agency reported on Wednesday
Baragwanath was accompanied by STL Vice President Judge Ralph Riachi .
Suleiman and Baragwanath discussed the tribunal's work NNA reported but did not elaborate any further.
Baragwanath's first meeting was with PM Nagib Mikati at the Grands Serail . During their meeting they discussed the cooperation between the Tribunal and Lebanon. Mikati reportedly reaffirmed Lebanon's commitment to UN resolutions including 1757 which established the tribunal .
Baragwanath reportedly briefed Mikati on STL's work and said that the sole purpose of the tribunal is to achieve justice by punishing the killers involved in the crime . Baragwanath also reportedly reminded Mikati that Lebanon is 11 months late in paying its share of the STL funding for 2011
Barangwanath did not talk to reporters after his meeting with Mikati but promised to provide a comprehensive statement at the end of his meetings with Lebanese officials
Barangwanath replaced Antonio Cassese as the tribunal's president after the latter's retirement for health reasons last October.
The STL is a UN-backed court investigating the 2005 assassination of former Prime Minister Rafik Hariri.
Four Hezbollah members have been indicted by the tribunal. However, the Shiite group strongly denied the charges and refuses to cooperate with the court.
Lebanon according to the agreement contributes 49 percent of the STL's annual funding.