Romney says his first foreign trip as president would be to Israel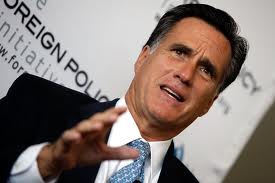 Mitt Romney, the former Massachusetts governor, said during a foreign policy debate Tuesday night that his first foreign trip as president would be to Israel and accused President Barack Obama of being unfriendly to Israel.
"The right course for Israel is to care about Israel," he said during the debate with seven other contenders for the GOP nomination , held in Washington. "My first foreign trip will be to Israel to show we care about them."
Another candidate, former Pennsylvania Sen. Rick Santorum, said he would likely make Israel his first stop, although his first foreign policy priority would be to counter anti-American trends in Latin America.
Among the questions raised at the debate was whether the candidates would join Israel in an attack on Iran to stop it from obtaining a nuclear weapon.
Herman Cain, a businessman, said he would, once he had assessed Israel's mission as sufficiently clear.
Newt Gingrich, the former U.S. House of Representatives speaker, said he would join such an endeavor only if it were a last resort and he was certain it would result in regime change.
He said not supporting Israel could be dangerous in such a situation, because should Israel feel abandoned, it might resort to nuclear weapon attacks on Iran.
The only other candidate to address the question, Rep. Ron Paul (R-Texas), said he would not join Israel, but added that he did not believe Israel would launch a strike.