Turkish PM urges Assad to step down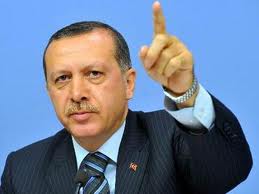 Turkey's prime minister said Tuesday that Syria's president must step down over the country's crackdown on dissent, ratcheting up the pressure on the increasingly isolated Bashar Assad.
Turkey's call came as Syrian activists reported that five people — including four children — were killed Tuesday.
"For the welfare of your own people and the region, just leave that seat," Recep Tayyip Erdogan of Turkey said in a televised speech.
He reminded Assad of the bloody end of Libyan leader Moammar Gadhafi and those of past dictators, including Adolf Hitler.
"If you want to see someone who has fought until death against his own people, just look at Nazi Germany, just look at Hitler, at Mussolini, at Nicolae Ceausescu in Romania," he said. "If you cannot draw any lessons from these, then look at the Libyan leader who was killed just 32 days ago."
World leaders are turning on Assad in quick succession. The military crackdown on an 8-month-old uprising against Assad's regime has killed nearly 4,000 people.
The Local Coordination Committees, a key activist network, and the British-based Syrian Observatory for Human Rights, said four children, between the ages of 10 and 15, were killed by gunshots fired at random from a military checkpoint near the town of Houla in the restive Homs province. A fifth person was killed by security forces in the district of Khaldieh, the groups said.
The LCC said Syrian forces backed by tanks and armored vehicles stormed the area of Houla and were besieging the district of Bayada in Homs, a hotbed of dissent against President Assad's regime.
Syria places severe restrictions on the work of journalists and bans most foreign journalists from the country, making confirmation of events on the ground difficult.
Erdogan's warning came the day after Syrian soldiers opened fire on at least two buses carrying Turkish citizens, witnesses and officials said, apparent retaliation for Turkey's criticism of Assad, whose military crackdown on an 8-month-old uprising against his rule has killed nearly 4,000 people.
"To protect travelers, especially those returning from the hajj, is a country's honor," Erdogan said, referring to the annual Muslim pilgrimage to Mecca in Saudi Arabia.
Erdogan's call signals a definitive end to Turkey's once-close ties to the Assad regime. Turkey was an important trade partner for Syria, and Erdogan had cultivated a close friendship with Assad. But Turkish leaders have grown increasingly frustrated with Damascus over its refusal to halt the crackdown on the opposition protests.
As it emerges as a regional power, Turkey has taken a leading role in calling for changes in Syria.
Erdogan said last week that the world must urgently "hear the screams" from Syria and do something to stop the bloodshed.
Turkey has allowed Syrian refugees and military defectors to take refuge on its soil, and Syria's political opposition has used Turkey as a place to meet and organize.
Saudi Arabia, which has also criticized the crackdown, announced on Tuesday that one of its citizens, Hussein bin Bandar bin Khalaf al-Anzi, was killed in Homs while visiting relatives Monday. A government statement on the Saudi Press Agency demanded an explanation from Syria on the circumstances of his death and said the Saudi government regarded the incident with grave concern. It did not provide further details or say how he was killed.
Syria's state-run SANA news agency said security forces on Monday carried out a "qualitative" operation in the Bayada district of Homs in which they killed four terrorists and confiscated their weapons. It said a "top terrorist" nicknamed Bandar was among them.
It was not immediately clear if the man referred to by SANA was the Saudi man. But Syria's Al-Watan newspaper, which is close to the Syrian government, said a Saudi was among gunmen killed by security agents in Homs. The paper said the Saudi was of Syrian origin, dismissing media reports that he was killed while on a visit to family in Homs.
Relations between Syria and Saudi Arabia are already tense. Last week, angry pro-Assad protesters attacked the Saudi Embassy in Damascus after the Arab League suspended Syria's membership in the bloc over its failure to abide by an Arab peace plan to end the bloodshed.
Saudi Arabia withdrew its ambassador to Damascus in August over the brutal crackdown.
Assad's deepening isolation and the growing calls for his ouster are a severe blow to a family dynasty that has ruled Syria for four decades — and any change to the leadership could transform some of the most enduring alliances in the Middle East and beyond.
Syria's uprising has grown increasingly violent in recent months. Army defectors who sided with the revolt have grown bolder in recent weeks, fighting back against regime forces and even attacking military bases — raising fears of a civil war.