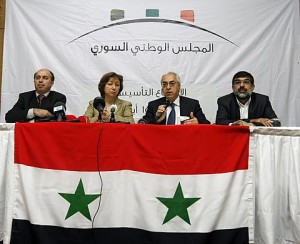 The opposition Syrian National Council said Tuesday it is organising a conference with the Arab League to prepare for a "transitional period" after the fall of President Bashar al-Assad's regime.
Assad is under mounting pressure from Syria's neighbours to step down over his regime's eight-month crackdown on protests that the United Nations says has killed more than 3,500 people since mid-March.
"The Syrian National Council, in cooperation with the Arab League, will organise a national conference to prepare for the transitional period in Syria," it said in a statement received by AFP in Nicosia.
The SNC, the largest and most representative Syrian opposition grouping, said it was in talks with activists and dissidents to prepare for the transition "in accordance with the Arab League initiative."
"It was determined that the conference will issue a memorandum concerning the post-Syrian regime phase," it said, adding this would ensure "inclusivity and the participation of all political forces in Syria."
On Monday, British Foreign Secretary William Hague urged the Syrian opposition to unify to become stronger as he held his first meetings with their representatives in London.
France's foreign minister, Alain Juppe, issued a similar call last week, saying "the SNC must get organised" before it can win recognition from the French government.
The SNC has so far only been officially recognised by the new post-Kadhafi Libyan authorities.