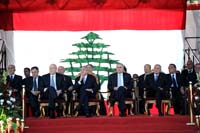 President Michel Suleiman, Prime Minister Najib Mikati, Parliament Speaker Nabih Berri, Defense Minister Fayez Ghosn and Lebanese Army commander Gen. Jean Kahwagi all attended the 50-minute Independence Day military parade at Shafiq Wazzan Avenue in Downtown Beirut Tuesday morning.
Brazilian Vice President Michel Temer, who is in Lebanon on an official visit also was present at the military parade that marks the 68th anniversary of Lebanon's independence. Temer is of Lebanese decent .There are reportedly more Lebanese in Brazil than in Lebanon.
At the end of the parade, Suleiman, Berri and Mikati headed to the presidential palace in Baabda to receive well-wishers.
Suleiman addressed the Lebanese on the eve of the Independence Day . He reiterated his call for dialogue and for respecting previous agreements reached during dialogue talks specially with regards to the funding of the Special Tribunal for Lebanon.
March 14 politicians who form the opposition used the occasion to question Lebanon's current sovereignty.
MP Ahmad Fatfat said Lebanon did not enjoy true independence.
"Our independence is incomplete because some people try to violate Lebanon's sovereignty" Fatfat told Voice of Lebanon radio station.
Other March 14 MPs vocally condemned recent cross-border incursions by the Syrian army into Lebanese territory.
Lebanese Forces leader Samir Geagea a key member of the opposition urged Lebanese to unite.
"Lebanon's independence is entrusted in your own hands," Geagea said in a statement issued Tuesday.
"Your [Lebanese] unity is the guarantee for the survival of Lebanon and so is your cooperation and harmony," he said.
He saluted "the Lebanese martyrs who sacrificed themselves for their country."
Geagea called on the rival Lebanese people to preserve their nation's independence "by protecting one another … and bridging the gap so that Lebanon will be sovereign and independent and remain a pioneer in democracy."