Kabbara: Hezbollah, allies occupying Beirut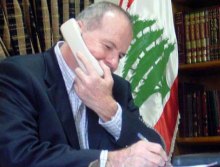 We should first liberate ourselves from the occupation by the Assad , Iranian forces before we talk about the 2013 elections, Future bloc MP Mohammad Kabbara said on Monday in response to a question about the proposed electoral law.
"Everyone knows that weapons are being openly distributed, even Interior Minister Marwan Charbel has admitted it," Kabbara said during a press conference at his office in Tripoli, north Lebanon.
Kabbara also asked, "Why don't the security forces raid the Syrian regime's arms depots in Lebanon, even though everyone knows where they are?"
Kabbara said : "Hezbollah, along with the Syrian and Iranian -backed parties are occupying Beirut."
Kabbara accused Hezbollah of building security quarters in Akkar , Tripoli, Menniyyeh, Beqaa, Saida, Beirut, Mount Lebanon ( both in the Christian and Druze areas) to undermine Lebanon's stability by openly distributing arms to their supporters".
Commenting on the funding of the Special Tribunal for Lebanon ( STL) he said : Everyone that opposes funding the tribunal is a criminal and a traitor .
His comment comes after a report in the al Akhbar newspaper revealed that a key March 8 official informed PM Najib Mikati the day before yesterday that "Hezbollah and its allies refuse to finance the Special Tribunal for Lebanon in any shape or form." The same official said that Mikati responded by saying:" I am committed to funding and this commitment I can not withdraw . "