Jumblatt on proportional representation: We got the message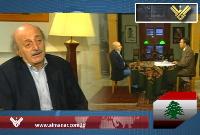 Progressive Socialist Party leader Walid Jumblatt left today to Paris. There are rumors that he may meet with former PM Saad Hariri .
His trip comes two days after he criticized the proposed electoral law which calls for proportional representation describing it as a message to undermine his party's influence .
"We still have some influence within the Druze circles. If what is being sought from proportional representation is to undermine whatever influence we still have then we understand….We got the message," Jumblatt told Hezbollah's Al-Manar TV in an interview aired Friday night.
Jumblatt also said that his party cannot compete with the political and human resources of other parties, even in the Chouf, a Druze stronghold, which he said has become more diverse.
Interior Minister Marwan Charbel drafted an electoral law based on a system of proportional representation. Many lawmakers, primarily President Michel Suleiman have supported the idea of proportional representation as means to eliminate sectarianism.
Lebanon's current electoral law is a winner-takes-all system. Under the draft law, Lebanon would be divided into 10 to 14 electoral districts. The new districts would be larger than a qada (county) , the electoral district adopted in the last parliamentary polls in 2009, but smaller than a governorate. ( Lebanon is divided into 6 governorates ( muhafazat)
Jumblatt has been always opposed to large electoral districts.
Although the PSP leader voiced his objections to proportional representation, he said that embracing such a system of representation "was a demand made by the Lebanese National Movement and left-wing party led by his father the late Kamal Jumblatt during the Lebanese civil war , but the circumstances today have changed because due to the sectarian situation in Lebanon the influence of the PSP has become limited within the Druze community."
"Before we begin discussing proportional representation, we should discuss how we can protect diversity and put an end to political bribery, no one can do that," Jumblatt added.
The leaders of minorities in Lebanon are concerned that the new electoral law will not allow them to elect their own representatives specially because of the current sectarian system which allocates Mps based on religious affiliation. They are concerned that parties such as Hezbollah which is Shiite ( the largest religious sect in Lebanon) will dictate who will represent the minorities.