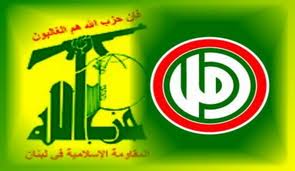 For the second time in so many days Hezbollah and the Amal Movement reaffirmed their support to Syria against "international conspiracies" and said they are opposed to Lebanon being used as a conduit for plots against its neighbor.
"We assert out support to Syria, its people, army and institutions, and oppose the use of Lebanon as a conduit to conspire against sisterly Syria," Hezbollah and Amal Movement said in a joint statement
"What is taking place in Syria is an international conspiracy that targets Syria for its position as a rejectionist state as well as its supportive policies to Arab and Islamic resistance movements, especially in Palestine," t said the statement.
This statement comes after the United States urged Lebanese authorities to protect their financial sector against potential Syrian attempts to sidestep sanctions, sparking fears that Beirut could be in the lineup of possible future measures against the Assad regime.
This statement also comes 2 days after Hezbollah and the Amal Movement officials met on Saturday and reiterated their support for Syrian President Bashar al-Assad's regime, in a statement following their meeting.
"We will not forget Syria's support of Lebanon and backing of our right to have a Resistance against years of Israeli occupation," the Shiite parties said in a statement
The statement added that "gambling… on the failed US project in the Middle East will be fruitless ".
Hezbollah and Amal also reiterated their support for Iran, as pressure mounts on the Islamic state over its nuclear program.
"We firmly support the Islamic Republic of Iran against all American and Israeli threats," the statement said.
Hezbollah's leader Sayyed Hasan Nasrallah warned recently that any attack on either Syria or Iran would drown the rest of the region into conflict.
The Arab League suspended Syria's membership last week and rejected over the weekend amendments proposed by Damascus on the monitoring mission by the Arab organization aimed at ending the crisis in that country.
Over 4,500 people, mostly civilians, have been killed in the crackdown by Syrian security forces against the pro-democracy protesters since the uprising began last March 15 according to Human Rights organizations.