Syria sanctions: US, allies focusing on Lebanon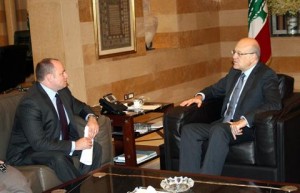 The U.S. and its allies are shifting their efforts to constrict Syrian President Bashar al-Assad's few remaining financial lifelines, focusing on ties to Lebanon banks as they increasingly voice confidence that economic malaise will ultimately force the Assad regime from power.
Syria's economy will contract by as much as 8% this year, some independent economists project, due to cuts in oil exports and the collapse of the tourism industry amid Mr. Assad's eight-month military crackdown on dissent.
Syrians say business in the capital, Damascus, is suffering and residents from the second-largest city, Aleppo, have reported shortages of gasoline, diesel and .
The Treasury and its partners in Europe and the Middle East are focusing on more than a dozen Lebanese banks that hold branches in Damascus.
When Daniel Glaser, the U.S. Treasury assistant secretary for terrorist financing, visited Beirut earlier this month he gave a stark warning that Lebanese banks risk being blacklisted if they are seen as helping Syrian banks evade sanctions, a more direct message than the one Glaser issued to the media at the time in which he said Lebanon must work to avoid attempts by Syria to use its financial sector as a means to evade sanctions.
Photo: Lebanese Prime Minister Najib Mikati during his meeting at the Grand Serail with U.S. Assistant Treasury Secretary for Terrorist Financing Daniel Glaser on Thursday, Nov. 10, 2011
WSJ