Arab League meeting to enforce Syria suspension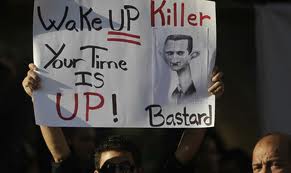 Foreign ministers from the 22-member Arab League are expected to formalize their decision to suspend Syria for refusing to end its bloody crackdown against anti-government protesters.
The unprecedented suspension against an increasingly isolated Syria took effect Wednesday but can still be revoked by the Arab League.
Violence has continued to wrack Syria despite its agreement Nov. 2 to an Arab-brokered peace deal that called for the regime to halt its attacks against protesters, pull tanks and armored vehicles out of cities, release political prisoners and allow journalists and rights groups into the country.
"What has happened in Syria is very sad for all of us, we cannot accept that people are being killed in the way they are now. We are moving to stop the flow of blood," said Qatari Foreign Minister Hamad bin Jassim, whose country has taken the lead in isolating Syria. "The Syrian government must apply the Arab League plan."
Even Turkey, which once had close ties with Syria, has expressed increasing concern over the situation across the border.
"We denounce the mass murder of the Syrian people," said Turkish Foreign Minister Ahmet Davutoglu, who was in Morocco for a meeting on Arab-Turkish ties. "It is all of our responsibility to end the bloodshed in Syria."
The suspension decision has enraged Syria, which considers itself a bastion of Arab nationalism. Syrian Foreign Minister Walid al-Mouallem boycotted the meeting.
Damascus fears the United States and its allies might use the rare Arab consensus to press for tougher sanctions at the United Nations. Veto-wielding Russia and China have so far opposed efforts at the U.N. Security Council to impose sanctions on Syria — a stance that could become harder to maintain in the face of the Arab stance.
Bin Jassim of Qatar told The Associated Press before a closed meeting that the ministers could still decide not to apply the suspension.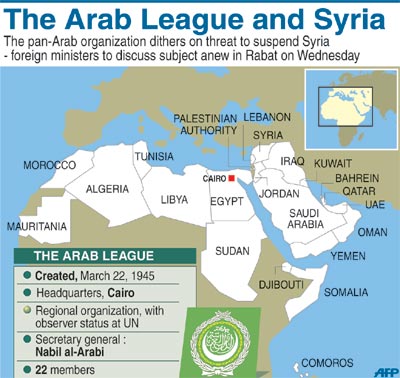 But the deputy secretary general of the Arab League suggested that the suspension would probably go ahead and discussions would center around setting up an Arab monitoring group.
"They are in the midst of negotiating with the Syrian government the formation of an observer mission and are discussing its composition and its exact mission," said Ahmed Benhelli. "This commission will see if Syria is in compliance with the Arab League plan."
Once the commission has decided Syria is in compliance, Syria will be restored to the Arab League, he added.
Saudi Foreign Minister Prince Saud al-Faisal would not comment if there were any plans for military intervention, only saying that the situation must end.
"They must stop the bloodshed and think of the Syrian people," he told AP.
However, his Moroccan counterpart, Taieb Fassi Fihri, maintained that military intervention would not be discussed at the meeting.
AP