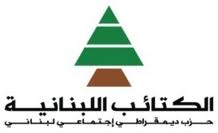 The Phalange Party issued a statement on Monday saying if Lebanon wasn't able to abide by the "collective Arab decision" on Syria at the Arab League" then it should have abstained from the vote, like Iraq did"
The statement comes after the Arab League on Saturday suspended Syria's membership in the organization until President Bashar al-Assad implements an Arab deal to end violence against protesters, and called for sanctions and transition talks with the opposition. Lebanon in addition to Syria and Yemen voted against the Arab League's decision while Iraq abstained.
Commenting on the so called resistance ( Hezbollah) arms , the party said that Lebanese officials currently need to focus on drawing up means for defending the country instead of preoccupying themselves with issues related to Resistance.
Armed resistance against Israel lost its purpose after the 2000 Israeli withdrawal, the deployment of U.N. peacekeepers and the issuance of (U.N. Security Council) Resolution 1701," – which ended the devastating 2006 war between Israel and Hezbollah.
The Lebanese state must only use the means of diplomacy and its national army to defend the country, the statement said
" This is the only way to unite the Lebanese people, defend the country , immunizes it diplomatically and shield it from dangers and Israeli threats."
The party called for dialogue to discuss how the Lebanese state can "reclaim leadership" and for weapons to be placed in the hands of legitimate Lebanese institutions.
Israel withdrew on May 25, 2000 after 22 years of occupation. Hezbollah was credited by all the Lebanese for liberating south Lebanon but has since fallen from grace by its own hands when it pointed its guns in May 2008 against the Lebanese people following its 2006 war with Israel. Earlier this year Hezbollah toppled the government of former PM Saad Hariri and now completely dominates the political situation in Lebanon.
UN Security Council Resolution 1701 helped solidify a ceasefire for the 2006 July War between Israel and the Hezbollah.