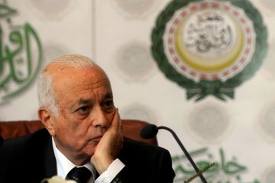 The Arab League is preparing to send a 500-strong delegation of observers to Syria following a decision to suspend Damascus from the bloc over its deadly crackdown on protests.
The decision to send the delegation, made up of human rights groups, media and military observers — came after a meeting at the Arab League headquarters aimed at studying measures to protect civilians in Syria.
The 22-member Arab bloc on Saturday voted to suspend Syria from all league activities over its failure to implement a deal to end the violence which has left around 3,500 dead since March, according to UN figures.
Arab League chief Nabil al-Arabi is also to meet with Syrian opposition groups in Cairo on Monday, as agreed during the Saturday meeting.
"The Secretary General will meet representatives of the Syrian opposition (on Monday) afternoon at the league headquarters," the official told AFP.
"None of the delegates of Arab organizations tasked with protecting civilians will go to Syria until a clear memorandum of understanding is signed with the Syrian government spelling out the duties and rights of all the parties," Arabi told reporters.
Arab League foreign ministers are due to meet in Rabat on Wednesday to discuss the crisis in Syria and the visit by the delegation for which no date has yet been set.
Syria's suspension is due to go into effect on November 16.
At Saturday's emergency meeting, the League agreed on the principle of economic and political sanctions against Syria and urged the withdrawal of Arab ambassadors from Damascus.
It also called for a meeting with Syrian opposition groups "to agree a unified vision for the coming transitional period in Syria."
Arab top diplomats at an earlier meeting in Cairo on November 2 drew up a plan to end the violence in Syria which has left 3,500 dead since mid-March according to the United Nations.
Under the deal, Syria was given 15 days to pull back its troops from the cities that were the focus of anti-government protests, release detainees, allow free movement for observers and media and negotiate with the opposition.
KT