Lebanon ministers are now considered resigned from parliament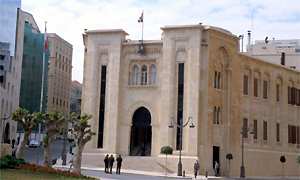 The cabinet approved on Friday a bill that would prevent cabinet ministers of acting as parliament members, a move aimed at separating the cabinet from the parliament according to acting Information Minister Wael Abu Faour who made the announcement after the cabinet meeting .
The cabinet passed a bill, which states that parliament's [legislative] and the government's [executive] authorities must be separated." He said
Article 28 of the constitution, which was amended after passing the law, now states that "the MP who is appointed as a minister after a new government is formed, is considered resigned from parliament," Abu Faour said.
However, according to Article 28, the rule does not apply to the prime minister's position, the minister added.
Additionally, Abu Faour said that Article 41 of the constitution was amended and now states that "a new MP is elected to replace the empty seat [of the deputy who is appointed as minister] two months after the appointment."
Abu Faour did not indicate when the elections to replace the ministers will take place
FPM ministers clash with Mikati
According to media reports Free Patriotic Movement ( FPM) insisted during the cabinet session that even the premier should resign as lawmaker as soon as the cabinet receives its vote of confidence.
But PM Najib Mikati hit back saying he rejects to give up the authorities given to him by the Taef Accord. "The same as the president and the speaker, the prime minister has his own symbolism."
"It is unacceptable to deal with the premier this way. That's why I reject this and I will include an article in the draft law excluding the prime minister from its provisions." He was quoted as saying
Along with Mikati, Suleiman, Minister Mohammed Safadi and the ministers loyal to Progressive Socialist Party leader MP Walid Jumblatt rejected the FPM proposal.
Following Mikati's firm stance and after five hours of deliberations, the ministers including those representing FPM approved the draft law that excluded the prime minister from the ban to serve in the government as an MP.
An Nahar newspaper was quoted by ministerial sources as saying that the demands of FPM ministers were seen as a campaign by MP Michel Aoun ( FPM leader) against Mikati.