PSP, Future Movement agreed to coordinate at all levels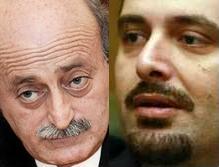 The Progressive Socialist Party and Future Movement delegations met on Friday and agreed to create a joint committee to coordinate between the two sides in what appeared to be the development of closer ties between the former allies.
A statement posted on the PSP's website said the meeting had been a follow-up gathering where representatives agreed to coordinate at all levels.
"The two parties agreed to coordinate at all levels and established a joint commission to develop bilateral relations ," the statement added
"Both parties agreed to maintain a stable domestic situation in light of developments in the Middle East ," the statement added. However, it did not elaborate further.
The statement also said the two sided agreed on the need "for unity within legitimate institutions."
PSP leader MP Walid Jumblatt split from the March 14 coalition following the 2009 elections , after which he reconciled with Hezbollah and nominated Najib Mikati for the premiership instead of his former ally Future Movement leader Saad Hariri.
However Jumblatt most recently called on the Future Movement leader to help in ending the crisis in neighboring Syria.
Jumblatt has also expressed views on divisive issues in the country similar to those of lawmakers of the March 14 coalition, namely over the issue on the need for Lebanon to fund its share toward the Special Tribunal for Lebanon.