Missing Imam Sadr is confirmed dead, report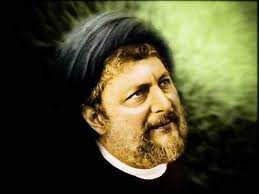 Shiite spiritual leader Moussa Sadr, who went missing in Libya in 1978, was "liquidated" at the time, a former aide to former Libyan leader Moammar Gaddafi said Wednesday.
The fate of the Iranian-born Shiite cleric has been a mystery since he vanished during a trip to Libya aimed at negotiating an end to Lebanon's 1975-1990 civil war.
Ahmed Ramadan, one of the most influential people during Qaddafi's era, said Wednesday on Al-Aan television that Sadr disappeared following a meeting with the late Libyan dictator soon after arriving in Tripoli.
"I bear witness that Sadr came to Libya," Ramadan said on the Dubai-based channel, adding the meeting with Gaddafi lasted for two and a half hours.
Two officials then "took the guests," including the cleric and those who accompanied him, and "100 percent, what we heard is that he was liquidated," said Ramadan.
Ramadan said it was "possible" that Gaddafi had given the orders for Sadr to be killed because after the meeting, "He said: 'Take him'."
He said he received the information from "some sources at the time" as well as from one of the three officials involved who had since died.
The remains of the cleric, who would have been 83 in April, were likely to be located in either Janzur, a suburb east of Tripoli, or the southern region of Sabha, he said.
Officially invited to Libya, Sadr arrived there on August 25, 1978, with two companions Sheikh Mohammed Yacoub and journalist Abbas Badreddin. They were last seen on August 31, 1978.
Sadr's disappearance had been a source of tension between Lebanon and the Gaddafi regime, which always maintained that the cleric had left Libya for Italy.
Gaddafi's son confirms death
In a related development Seif al-Islam Gaddafi, the son of former Libyan leader Moammar Gaddafi, reportedly also confirmed to a Lebanese woman, closely associated with the Lebanese-Syrian security apparatus that controlled Lebanon until 2005, that Sadr had been killed in 1978 on orders from his father, revealed the Kuwaiti al-Rai newspaper on Wednesday.
Arab sources told the newspaper that the woman, whose identity was not revealed, met Seif al-Islam in Athens in August 2010 to discuss the fate of the disappeared Imam.
The sources said that the meeting was not held until the Libyan official made sure, through a third party, that the woman speaks on behalf of the Sadr family in order to put an end to the dispute over the fate of the Shiite cleric and his colleagues.
Seif al-Islam confirmed that Sadr and his two companions were killed in Libya in 1978 shortly after meeting with Gaddafi, said the sources.
Seif al-Islam held his father responsible for the "execution" of Sadr and his companions, revealing that he decided "to get rid of them" a few days after being arrested by Gaddafi, stated the sources.
The three officials were reportedly arrested shortly after the "stormy" meeting they had with the slain Libyan leader.
Sadr in 1978 was trying to negotiate an end to the Lebanese civil war (1975-1990), in which Palestinian factions were involved.
Gadhafi was believed to be providing weapons to the Palestinians and other groups and Sadr, according to reports, was hoping to convince the Libyan leader to end his involvement in Lebanon civil war
Libyan authorities at the time claimed that the three Lebanese Shiite officials left Tripoli to Italy, but Italy denied the claims
In 2004, the passports of Sadr and Yacoub were found in a hotel in Rome.
Last month, a Lebanese committee charged with following up on Sadr's case traveled to Libya to meet with the country's National Transitional Council.
Buried in a farm
Tripoli's supreme military council chief Abdelhakim Belhaj told BBC Arabic last month that reliable reports indicate that the missing Imam was buried in a "farm" south of the Libyan capital, Tripoli
"We previously received information that Imam al-Sadr was moved to Sabha and then buried in al-Qalaa neighborhood," Belhaj told BBC adding that such reports confirm that he was buried in a farm.
"We are following up the information and we want to know the truth, which will be announced at the right time," Belhaj said
The farm is about 20 km south of Tripoli
The report indicated that the "farm that was being probed includes bodies for Libyan opposition members and African figures."