Jumblatt urges government to protect Syrian refugees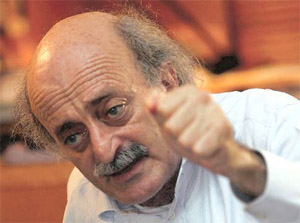 Progressive Socialist Party leader MP Walid Jumblat condemned on Wednesday the kidnapping of Syrian opposition members in Lebanon , urged the Lebanese government to protect Syrian refugees and warned against the reemergence of a "new era of mandate" in Lebanon a possible reference to the "infamous" security hegemony that controlled the country for nearly three decades .
In a statement Jumblatt said: "All Syrian activists have the right to express their opinions freely without being subjected to any harassment or pressure from any side."
"The PSP asserts the right for political asylum as stipulated in the Lebanese constitution and laws, which calls for respecting the freedom of political expression in accordance with Lebanon's historic role as a country that protects diversity and freedoms," Jumblatt stressed.
"Are we witnessing the resurrection of a new phase of the infamous Syrian mandate?" He asked
The PSP leader also urged Lebanon's Higher Relief council to "carry out its duties and offer aide to Syrian refugees."
Furthermore, Jumblat renewed the party's "absolute" rejection of using Lebanon for any actions that may harm Syria's security and stability.
"The party confirms its commitment to the army's great national role in confronting Israel, but it also plays a role in maintaining the country's borders and it is necessary to keep it out of the conflict in Syria and remain focused on Lebanon's internal stability and security," he noted.
Several Syrian opposition figures were reportedly abducted in Lebanon including Baath party co-founder and former Syrian VP Shebli al-Aysami who went missing in Aley last May . Aysami's son confirmed yesterday that his father is in Syria.
Al-Jumhuriya newspaper reported on October 11 that Internal Security Forces Director General Achraf Rifi told the Parliamentary Human Rights Committee that "Lebanese security forces assigned to protect the Syrian embassy in Lebanon kidnapped four [dissident] Syrians using embassy vehicles."
According to local reports the kidnappers were led by Lt. Salah Ali al-Hajj, the head of the Syrian Embassy guard unit. Hajj is the son of Maj. Gen. Ali Hajj, Lebanon's former ISF chief who was held along with three other Lebanese generals for four years for alleged involvement in the 2005 assassination of former Prime Minister Rafik Hariri.
But Syrian Ambassador Ali Abdul Karim Ali denied any involvement and challenged Rifi to provide evidence.
Thousands of Syrians have fled to Lebanon in recent months, often using illegal border crossings, to escape the violence gripping their country.