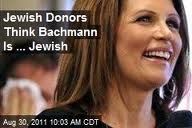 Republican presidential hopeful Michele Bachmann called on President Barack Obama Tuesday to apologize to Israeli Prime Minister Benjamin Netanyahu for an unflattering exchange caught on an open microphone at a summit in France last week.
In the conversation reporters heard, French President Nicolas Sarkozy says he can't stand Netanyahu and calls him a liar. Obama responds, through a French interpreter: "You are sick of him, but I have to work with him every day."
Bachmann told reporters Obama needs to apologize to America's closest ally in the Middle East.
"I call on President Obama to immediately apologize to Prime Minister Netanyahu and I also believe that the president should demonstrate leadership and demand that the French President Sarkozy do the same," Bachmann said.
White House spokesman Jay Carney had no comment on the conversation.
Bachmann said that Obama is putting too much space between the U.S. and Israel. "And now president Obama has put Israel further at risk by allowing Iran the time Iran needed to get closer to obtaining nuclear weapons," Bachman said. She cited a report Tuesday from the U.N.'s International Atomic Energy Agency that says Iran is secretly acquiring know-how and gear needed to create nuclear weapons and preparing for tests.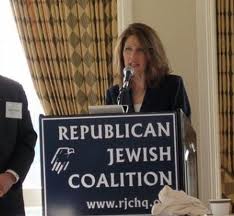 She's sharply critical of Obama and U.S. plans to exit Iraq noting in particular the influence Iran will gain. "We'll have fewer troops in Iraq than we have in Honduras — and that is despite spending 4,400 American lives and $805 billion," Bachmann said.
"The president's made some tragic errors in his foreign policy," Bachmann said.
Bachmann plans to make a foreign policy speech on Thursday in Charleston ahead of debate in Spartanburg on Saturday that will emphasize that topic.
The Minnesota congresswoman is trying to re-ignite her campaign in early-voting South Carolina and regain the tea party supporters she lost to Herman Cain and a Mitt Romney. Earlier Tuesday she again took issue with a tax break for the nation's low-income workers she now wants eliminated, saying former President Ronald Reagan made a mistake when he pushed for Congress to pass the law.
She's competing against a raft of tax proposals: Romney's proposal not to tax dividends, interest or capital gains for people with adjusted gross income below $200,000; Cain's catchy 9-9-9 plan and Rick Perry's 20 percent tax on post card idea.
Bachmann told reporters that every person needs to pay and sacrifice to get the country on back on its feet. "People who make more should be paying more and I believe that people who are at the upper end of the income stream need to be paying more," Bachmann said, adding that the highest income people already do that.