Syrian forces move into Homs district after shelling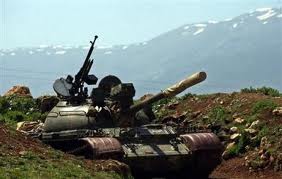 Troops and militiamen loyal to Syrian President Bashar al-Assad moved into a residential district of Homs after six days of tank bombardment that killed scores of people and wounded hundreds in the hotbed of unrest, residents and activists said on Monday.
Six civilians, including two women an eight-year old child, were killed elsewhere in the city, Syria's third largest, and its rural environs, in a continued military crackdown to suppress protests and an emerging insurgency against President Bashar al-Assad, they said.
At least 100 people were killed in Homs last week, mostly from tank fire into the Bab Amro district, the Syrian human rights organization Sawasiah said, amid a growing Arab and Western outcry over rising casualties.
The government says it is fighting armed gangs. Events in Syria are difficult to verify independently because the government has barred most foreign journalists.
"They are now storming houses and arresting people…. The shabbiha (pro-Assad militia) have brought pick-up trucks and are looting buildings," Raed Ahmad, one of the activists, said by telephone from Homs. He added that most residents had fled Bab Amro.
"The regime wants everything to look spic and span for the Arab League. They even started painting army troop carriers police blue and the shabbiha are wearing brand new police uniforms churned out by state factories," he said.
Qatar's prime minister has called for Arab states to meet next Saturday to address Syria's failure to implement a deal struck with the Arab League last week to end the offensive against protesters.
Syrian authorities have not commented on the offensive on Homs but have repeatedly said that terrorists were operating in the city, killing civilians and police, and that local inhabitants wanted them "cleansed."
They say Islamist militants and foreign-backed armed gangs have killed 1,100 members of the security forces during seven months of unrest. The United Nations says more than 3,000 people have been killed in Assad's crackdown. Syrian activists put the number of civilians killed as high as 4,200.
Under its deal with Arab peers, Syria was supposed to pull its military out of restive cities, political prisoners would go free and talks with the opposition, which seeks Assad's removal and more democratic freedoms, would begin within two weeks.
LIMITS TO ARAB PRESSURE
Western countries have denounced Assad for continuing the violence, but have effectively ruled out military involvement like the air strikes that helped topple Libya's Muammar Gaddafi.
"I deplore what is happening in Syria. It is particularly disappointing that it is taking place now after the Syrian government said a few days ago that they accepted the request of the Arab League to withdraw their forces from towns and … release political opponents and to end the killing," British Foreign Secretary William Hague said in Strasbourg.
But he added: "I don't think the answer to this now or subsequently would be a military from outside…. We will not be able to apply the same answer in Syria as in Libya."
Arab countries so far have not demanded Assad step down. They fear a potentially contagious chaos could ensue, given Syria's volatile sectarian divisions, which are replicated in varying degrees in other Arab countries of the region.
Tit-for-tat sectarian killings were reported in Homs last week, between Sunni Muslims, who form the majority of Syria's 20 million population, and members of Assad's minority Alawite sect, who dominate the country's levers of power, controlling the military, security apparatus and key sectors of the economy.
Syria's representative to the Arab League, Youssef Ahmad, said Damascus had "gone a long away" toward implementing the Arab League plan, pointing to the release of around 500 detainees under a conditional amnesty announced last week.
Ahmad, speaking on state television, renewed Syrian accusations that the United States was inciting bloodshed.
He said the Arab League must ignore what he described as false media reports and that Damascus had supplied "all the information that shows the aggression practiced by the armed terrorist groups on civilians and the security forces."
Activists, however, reported dozens of arrests in the last several days on top of tens of thousands of people who have been rounded up and thousands who have disappeared since the uprising against 41 years of Assad family rule broke out in March.
Many are in secret police dungeons or in sports facilities that have been turned into makeshift prisons, they said.
In Homs, insurgents and army defectors withdrew from the Bab Amro district where they had taken refuge and mounted a defense. Loyalist forces moved overnight into the district, which has seen frequent street rallies against Assad's autocratic rule, activists said.
"They were fighting tanks with mostly rifles. The Syrian army siege has basically turned Homs into a disaster zone," Omar Idlibi, a member of the Local Coordination Committee activist's organization, told Reuters from Beirut.
About 1,100 political prisoners, including opposition figure Naji Tayyara, went on a hunger strike at the Homs central jail on Monday to protest their continued incarceration despite the Arab League deal, activists said.
The Syrian Observatory for Human Rights said sporadic fighting renewed between defectors and loyalist forces in the northwestern province of Idlib after five members of the security police manning a roadblock were killed the day before.
Activists said Syrian forces shot dead at least 13 civilians on Sunday in the military assault on Homs and in attacks on pro-democracy demonstrations that erupted after prayers marking the main Muslim feast, al-Adha.