Palestinian president :Arabs erred in rejecting UN 47 Partition plan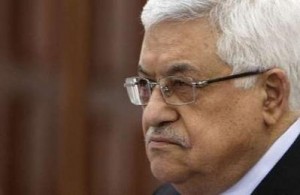 The Palestinian president, in a remarkable assessment delivered on Israeli TV, said Friday the Arab world erred in rejecting the United Nations' 1947 plan to partition Palestine into a Palestinian and a Jewish state.
The Palestinian and Arab refusal to accept a U.N. plan to partition the then-British-controlled mandate of Palestine sparked widespread fighting, then Arab military intervention after Israel declared independence the following year. The Arabs lost the war.
"It was our mistake. It was an Arab mistake as a whole," Palestinian President Mahmoud Abbas told Channel 2 TV in a rare interview to the Israeli media. "But do they (the Israelis) punish us for this mistake 64 years?
Abbas also addressed his negotiations with former Israeli leader Ehud Olmert, now in the spotlight because of the publication of the memoirs of former U.S. Secretary of State, Condoleezza Rice.
Rice backs Israel's account that Olmert made a peace offer that was rejected, while Palestinians say that talks never actually reached a point where a firm offer was on the table.
Abbas claimed that he and Olmert were "very close" to reaching a peace agreement in 2008, before the Israeli leader left office under the cloud of corruption allegations.
"It was a very good opportunity," he said. "If he stayed two, three months, I believe in that time we could have concluded an agreement."
He confirmed Olmert's account that the Israeli leader was prepared to withdraw from 93.5 percent of the West Bank. The Palestinians, Abbas added, responded by offering to let Israel retain 1.9 percent of the West Bank.
In her forthcoming book, "No Higher Honor," excerpted in Newsweek this week, Rice claims that the Palestinians rejected Olmert's proposal.
Rice said Olmert proposed in a May 2008 conversation with her to cede about 94 percent of the West Bank, and to share sovereignty over the disputed holy city of Jerusalem and put an international body in charge of its religious shrines.
In its waning days, Rice wrote, the administration of President George W. Bush tried one last time to wrest a peace deal: "To have an Israeli prime minister on record offering those remarkable elements and a Palestinian president accepting them would have pushed the peace process to a new level. Abbas refused."
In their last meeting before Bush left office in December 2008, "The President took Abbas into the Oval Office alone and appealed to him to reconsider. The Palestinian stood firm, and the idea died," Rice wrote.
On Friday, the chief Palestinian negotiator told The Associated Press that the Palestinians had never rejected the Israeli offer.
With Abbas offering in his counter-proposal to let Israel annex 1.9 percent of the West Bank, Bush set a meeting for Jan. 3, 2009, to lock in the positions, which had been delivered verbally, "so the next administration could begin where we left off," he said.
That meeting was scuttled because of Israel's December 2008 invasion of Gaza, Erekat said, and Olmert was soon out of office. Since that time, talks revived for only a brief three weeks last year.
Last month, Abbas bypassed the troubled negotiations route to ask the U.N. to recognize an independent state of Palestine.
In his interview with Channel 2, Abbas acknowledged the Palestinians might not be able to muster the necessary nine votes in the 15-member Security Council to approve the statehood bid.
But majority support would be a moot point, anyway, because the United States has threatened to veto the statehood petition. Israel also opposes the U.N. bid, arguing, like the U.S., that only negotiations can yield a Palestinian state.
Abbas said "it is difficult … to launch any kind of negotiations" with the current Israeli prime minister, Benjamin Netanyahu, who takes a hawkish stand on territorial concessions.
He said Netanyahu wants to retain an Israeli military presence along the West Bank's eastern border with Jordan for 40 years, even after the establishment of a Palestinian state.
"I told him, I prefer occupation," Abbas said.
Netanyahu has never publicly specified how long he wants to hold on to that territory, known as the Jordan Valley, and his office had no reaction to Abbas' comment.