A Lebanese political party behind the abduction of Aysami, report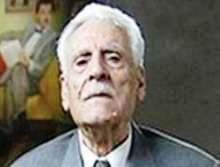 A Lebanese political party is behind the abduction of Shebli al-Aysami, LBC television reported on Wednesday adding that he was handed to Syrian authorities.
Aysami, a former Syrian vice president who became one of the country's most prominent dissidents was kidnapped in Lebanon five months ago in the eastern Lebanese region of Aley while visiting his daughter Rajaa Sharafeddine and is believed to be secretly imprisoned by the Syrian regime as it tries to crush a 7-month-old uprising, his daughter and Lebanese police said.
The abduction of Aysami, an 88-year-old who holds permanent U.S. residency, has raised alarm among some in Lebanon that members of the country's security forces are helping Syrian President Bashar Assad's regime in its crackdown on anti-government protesters, effectively extending it into Lebanon to prevent it from becoming a safe haven for the Syrian opposition.
LBC also reported that Jassem and Ali Jassem, Syrian nationals reportedly abducted in Lebanon, contacted an acquaintance in Lebanon and told him how he and his brother were kidnapped from Baabda in Lebanon.
According to the report, Jassem and Ali Jassem said that they were blindfolded when they were kidnapped, adding that when the blindfold was removed, they saw pictures of late Syrian President Hafez al-Assad and Syrian President Bashar al-Assad.
LBC added that Jassem al-Jassem is not allowed to leave Syria and is in house arrest.
In March Jassem Merii al-Jassem and his three brothers – Chedid, Ahmad and Ali – were reportedly abducted in Lebanon.
According to Al-Jumhuriya newspaper, Internal Security Forces Director General Achraf Rifi told the parliamentary committee for human rights that "members of the Lebanese security forces assigned to protect the Syrian embassy in Lebanon kidnapped four Syrians [whose family name is Jassem] using embassy vehicles."