Top contenders in Tunisia's election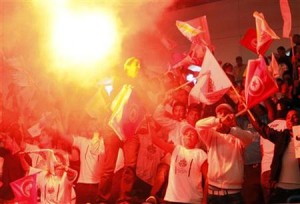 These are the projected top four finishers in Tunisia's election, based on polling data from Sigma Conseil, a Tunisian market research firm.
The survey was done between Oct. 1 and 7, and it revealed considerable voter confusion in an election that features more than 110 parties vying for 217 assembly seats. Nearly half of the more than 2,000 Tunisians surveyed did not express a preference, according to Sigma Conseil.
Ennahdha: A relatively moderate Islamist party that was banned in Tunisia under President Zine el-Abidine Ben Ali. The party — its name means "renaissance" — was oppressed and its members abused under Ben Ali. Ennahdha is the projected front-runner for the Constituent Assembly elections. The party, led by Rachid Ghannouchi, has expressed support for women's rights.
Ettakkotol: Also called the Democratic Forum for Labor and Liberties, it is a center-left Tunisian party founded in 1994 and officially recognized in 2002. The party was considered an opposition party to Ben Ali's Democratic Constitutional Rally party but was marginalized. Its founder and leader is Mustapha Ben Jafar, a radiologist who aspires to be Tunisia's president.
Progressive Democratic Party: This secular, center-right party was founded in 1983 and was part of the legal but oppressed opposition under Ben Ali. The party has the backing of the business elite and is a direct competitor with Ettakkotol. Nejib Chebbi, the party founder, has served in Tunisia's transitional government and has expressed a desire to lead the country.
Congress for the Republic: The centrist secular party was banned under Ben Ali and is led by the well-known Tunisian human rights activist Moncep Marzouki. After moving to Paris in 2002, he returned to Tunisia after Ben Ali's ouster. Marzouki's party is one of the few parties running candidates in every district. Marzouki has said he would like to run for president.
By Leila Fadel