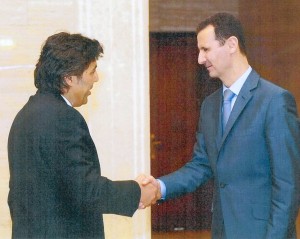 A federal magistrate ordered the release on home detention Tuesday of a Syrian-born U.S. citizen the FBI says has been spying on Syrian dissidents in the United States with intentions of harming them, saying that the prosecution had not established that he had committed a crime.
U.S. Magistrate Judge T. Rawles Jones Jr. said that the prosecution had proved only that Mohamad "Alex" Soueid had filmed protests and shared the films with Syrian government officials, which is not illegal, and that he did not seem to be a threat to flee.
"Whatever he's done in the past, he's incapable of doing it now," Jones said. "He's, at worst, a low-level operative, and it's speculative that he would walk out on a family he's this close to."
But Jones delayed the release until Wednesday to allow a federal District Court judge to hear an appeal from the government.
Investigators arrested Soueid, of Leesburg, Va., last week on charges of working as an undocumented foreign agent, lying to federal investigators and illegal possession of weaponry, including a Beretta pistol and three boxes of ammunition. An AK-47 with five rounds of ammunition, two flak jackets and a Kevlar helmet were also found at his home after his arrest, authorities said.
Prosecutor Dennis Fitzpatrick, in an attempt to demonstrate that Soueid could leave the country, highlighted a meeting Soueid had in July with Syrian President Bashar Assad, communications about setting up bank accounts in Peru, wire transfers of more than $200,000 from Syria via a French bank and a Citibank deposit of $4,000 made in $100 bills a day after spending more than an hour at the Syrian Embassy in Washington.
Defense lawyer Haytham Faraj argued that electronic monitoring and house arrest would keep Soueid from contacting anyone and that he wouldn't leave his family — twin 15-year-old sons and a wife of 17 years — since defendants in similar cases typically serve less than two years in prison.
Soueid came to the country 20 years ago with $600. He eventually earned more than $300,000 a year as a salesman at a Mercedes-Benz dealership in Virginia, his cousin Rasha Elass said in an interview.
When the economy fell apart, however, a bank foreclosed on Soueid's mansion and the family declared bankruptcy. Elass said the $200,000 that was wired to Soueid from Syria came from her family, which includes a Saudi oil company executive, so he could start a limousine service.
Photo: [This undated photo provided by the U.S. Attorney, Eastern District of Virginia and entered into evidence Monday, Oct. 17, 2011 at a detention hearing in U.S. District Court in Alexandria, Va. shows Mohamad Soueid, left, 47, of Leesburg, Va., meeting this summer with Syrian President Bashar Assad. Soueid is accused of acting as a Syrian spy in the U.S. His lawyer said the meeting stems from Soueid's role in a fact-finding mission led by Rep. Dennis Kucinich, D-Ohio, but Kucinich says he doesn't know Soueid and he wasn't on the fact-finding mission. (AP Photo/U.S. Attorney, Eastern District of Virginia)]