Syria escapes suspension from Arab League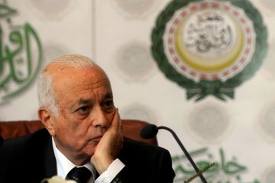 Arab foreign ministers called for a national dialogue between the Syrian regime and the opposition to be held within 15 days but failed to agree on suspending Syria's membership in the Arab League, as several members had been urging.
At the end an emergency Arab League session in Cairo to discuss the uprising – which has claimed 3,000 lives in the past six months – Sheikh Hamad bin Jassem, Qatar's prime minister and foreign minister, said the proposed meeting would be held under Arab League auspices and based on a seven-point plan put forward by the League last month.
Damascus, however, rejected a similar offer of dialogue put forward in September by Nabil Elarabi, the Arab League secretary-general. It has also dismissed the Arab League peace initiative, which envisages gradual reforms that would leave the president, Bashar al-Assad, in power until 2013.
The Syrian opposition too will be disappointed by the Arab League decision. Opposition activists insist that the time dialogue has passed and the only solution to Syria's crisis is the fall of the regime.
The Arab League meeting was called for by the six-nation Gulf Co-operation Council. Diplomats said before the meeting that it would discuss suspending Syria's membership to the League, a move that would have dealt a blow to Damascus, isolating it further within the region.
But Gulf states expected resistance, particularly from Lebanon, Algeria, Sudan and Yemen, which have attempted to block tough measures against Damascus.
Nabil Elarabi,secretary-general of the Arab League, played down the controversy over the suspension, telling reporters on Sunday it was not in the League's interest to cut contact with Syria.
The Arab League decision, which also included a new committee led by Qatar to initiate contacts with the Syrian regime, underlined the region's inability to address with any firmness what has emerged as the Arab spring's thorniest uprising.
Arab states broke their silence over Syria months after the revolt erupted in March and Saudi Arabia led the condemnation of Damascus' "killing machine". Since then, however, inter-Arab disagreements and Syria's fierce resistance to any outside intervention have prevented the adoption of punitive measures that could force the regime to end its crackdown against pro-democracy protestors.