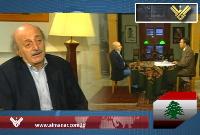 During an interview with al Manar TV on Friday evening , Progressive Socialist Party leader MP Walid reiterated that he supports funding for the Special Tribunal for Lebanon , even though he is with March 8 .
"My parliamentary bloc will vote for funding the STL because there is a different public opinion which wants to know who made these gruesome assassinations and this is their right. I do not know if a settlement on this issue can be reached." He said
On his relations with March 8 he said :
"I'm staying in the majority and this will not change", he added "there is no such thing as centrist block , there is a majority that formed the cabinet and I am with this majority ".
The ministers that represent Jumblatt , PM Nagib Mikati and president Michel Suleiman are supposed to be the centrist bloc in the cabinet .
Commenting on is relations with March 14 his former allies , who are now the opposition he said
"I am not in contact with the Lebanese opposition"
Commenting on Hezbollah arms he said :
"I am with the "army, people and resistance" formula, but the day will come when we will have to study a defense strategy. We want to demarcate our borders in order to achieve liberation. I do not want to link Hezbollah's arms with the Palestinian naturalization issue. Naturalization occurs when a solution is reached in Palestine.
Commenting on the Palestinian refugees in Lebanon he said :
" There are parties in March 8 who have a racist view towards the Palestinians. They do not want them in Lebanon, but I tell them that they are staying here without naturalization."
Commenting on the most recent increase in union wages Jumblatt expressed concern that the move could lead to inflation:
" Not enough studies were made on the wage increase deal. If we do not make any administrative reforms, we might have inflation like Greece. Europe is busy and the Arab World is not interested in us right now, so let us try to reform."
Commenting on the situation in Syria he said :
" When I met Syrian President Bashar Assad I was honest on the necessity to reach a political solution. There is bloodshed and oppression everyday, and innocent people being killed."
Jumblatt called on Syria to end the bloodshed , withdraw the Syrian army from the streets, freeing all prisoners. He condemned the demand of foreign intervention by the opposition, and called for allowing the press to cover all Syrian news in all the regions
asked about his relations with Hezbollah he said :
"Although we have different views, this does not affect the good strategic relations we have with Hezbollah. I have my own views on Syria and the Arab revolutions "
This error message is only visible to WordPress admins
Error: No connected account.
Please go to the Instagram Feed settings page to connect an account.